Main content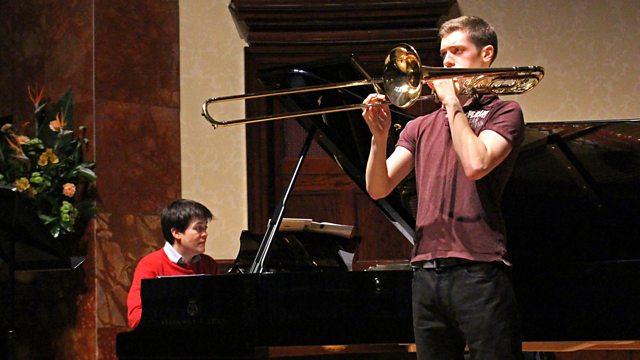 Wigmore Hall Mondays: Peter Moore and James Baillieu
From Wigmore Hall in London, Peter Moore (trombone) and James Baillieu (piano) perform music by James Maynard, Schumann, Jorgensen, Duparc, Rachmaninov, Hindemith and Pryor.
From Wigmore Hall, London trombonist Peter Moore teams up with pianist James Baillieu for an eclectic programme of old and new music including a a world premiere.
Peter Moore, winner of the 2008 BBC Young Musician of the Year competition, made history in 2014 when he was appointed the youngest-ever member of the London Symphony Orchestra at the age of 18. He is also a current Radio 3 New Generation Artist. He reveals every facet of his instrument's character in this programme, from the tender melody of the Rachmaninov to the majestic power of Hindemith's Sonata.
James Maynard (b.1977)
Urban Variations (world première)
Robert Schumann (1810-1856)
Fantasiestücke Op. 73
Axel Jørgensen (1881-1947)
Romance Op. 21
Henri Duparc (1848-1933)
La vie antérieure
Sergey Rachmaninov (1873-1943)
Cello Sonata in G minor Op. 19 (3rd movt, Andante)
Paul Hindemith (1895-1963)
Trombone Sonata
Arthur Pryor (1870-1942)
Annie Laurie.