Main content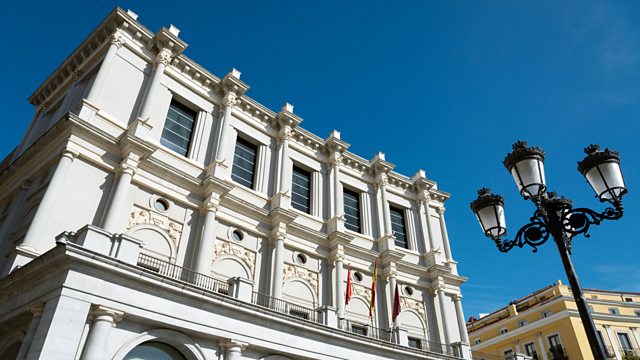 Mozart's La Clemenza di Tito
Christophe Rousset conducts a performance of Mozart's opera from the Teatro Real in Madrid. With tenor Jeremy Ovenden and soprano Karina Gauvin.
Tonight's Opera on 3 is Mozart's La Clemenza di Tito in a production from Madrid's Teatro Real conducted by Christophe Rousset.
Vitellia's father has been deposed as emperor by Tito and she wants revenge. She orders Sesto (who is in love with her) to murder Tito, not realising that Tito has in fact chosen her to be his empress. Luckily for the conspirators, Tito offers clemency to all concerned when the plot comes to light.
Sarah Lenton presents, in conversation with Cliff Eisen.
Tito ..... Jeremy Ovenden (tenor)
Vitellia ..... Karina Gauvin (soprano)
Sesto ..... Monica Bacelli (soprano)
Annio ..... Sophie Harmsen (soprano)
Servilia ..... Sylvia Schwartz (soprano)
Publio ..... Guido Loconsolo (bass)
Madrid Teatro Real Chorus and Orchestra
conductor Christophe Rousset.
Synopsis
ACT I
Scene 1
Enraged upon learning that Tito is planning to marry the foreigner Berenice, Vitellia makes her lover Sesto swear that he will plot the murder of Cesar in spite of his great admiration for the Emperor. Annio arrives with the news that Tito has changed his mind and will choose a Roman consort instead of Berenice, causing Vitellia to interrupt the conspiracy. Once alone, Annio asks Sesto to intercede with Tito on his behalf; he requests the hand of Sesto's sister Servilia in marriage, to which her brother agrees.

Scene 2
Publio announces the Senate's decision to build a temple in honour of Tito, however the Emperor rejects the offer and announces that the funds would best be used to help the victims of eruption of Vesuvius. Sesto and Annio are waiting for a chance to speak with Tito who, anticipating their wishes, announces his decision to marry Servilia. A grieving Annio, while repressing his own feelings, gives the news to Servilia who resigns herself to her fate.

Scene 3
Servilia opens her heart to Cesar: she promises to faithfully and devotedly comply with his will, but confesses that her true love is Annio. Tito is so moved by her sincerity and Annio's loyalty that he releases her from her promise. In the meantime Vitellia, furious with Tito's new choice of consort but ignorant of subsequent circumstances, reproaches Sesto for not having carried through with the assassination plan. When Sesto goes off on his dreadful mission, Publio returns to announce that Tito has finally chosen Vitellia as his wife. Upon hearing the news, Vitellia, overcome with remorse, stifles her guilt.

Scene 4
The Capitol is aflame. Sesto, who has used this strategy to further his murder plot under cover of the ensuing uproar is torn between his submissiveness to Vitellia and his respect for Tito. He finally leaves determined to deliver the final blow. When he returns he encounters Servilia, Annio, Publio and Vitellia and he tells them that Cesar has been ignominiously stabbed to death. This despicable act of treachery fills the crowds who begin to congregate, showing profound dismay and anxiety.

ACT II
Scene 1
Annio maintains that Tito is not dead, but Sesto, who saw Tito fall under his dagger, does not believe him and despises himself so desperately for his treachery that he confesses the deed to Annio. Vitellia enters and makes Sesto promise to never reveal her part in the plot. Publio enters with guards and arrests Sesto whom he accuses of the attempted murder of Tito. Sesto, under the impression that it was Tito, had mistakenly attacked his accomplice Lentulo, and the man's confession, just when he is about to die, exposes him.

Scene 2
The Senate has condemned Sesto to be thrown to the beasts. Tito hears of the sentence from Publio. He is very hurt by the treason of someone he considered a friend. In an emotional interview, Sesto confesses that he is solely responsible for the undertaking in an attempt to protect Vitellia. Alone, Tito finds himself incapable of signing the death warrant and decides to forgive Sesto. In the meantime Annio and Servilia succeed in convincing Vitellia that she must confess her part in the crime to Caesar.

Scene 3
Tito, before the crowd, has Sesto brought to him with the intention of making his pardon public. Vitellia arrives and, ignorant of Cesar's decision, throws herself at Tito's feet to implore his indulgence. Tito, who suddenly becomes aware of the extent of the infamous conspiracy, is on the point of altering his noble decision, but his own generosity moves him to forgive the conspirators while the crowds jubilantly praise his mercy.