Main content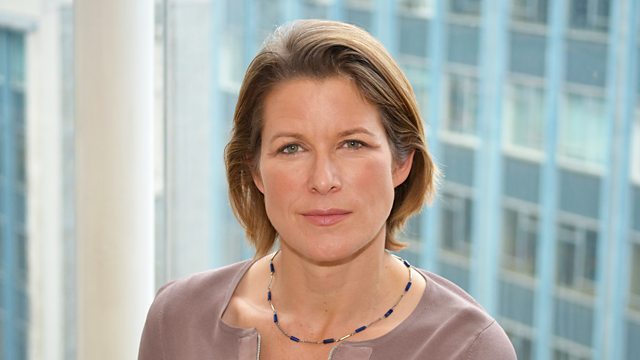 Stephanie Flanders
Michael Berkeley's guest is economist Stephanie Flanders. Her musical choices include favourite songs of her father - Michael Flanders - plus Glenn Gould in a Haydn piano sonata.
Stephanie Flanders is familiar to most of us from the years she spent as the BBC's Economics Editor, untangling graphs and statistics and treasury policies with great clarity and cheerful common sense. She left the BBC in 2013 and is now chief market strategist for Britain and Europe at JP Morgan Asset Management. But she's also the daughter of the late Michael Flanders, of Flanders and Swann, the writer of so many memorable comic songs - like "Mud, Mud, Glorious Mud".
Michael Flanders died when Stephanie was only six, but she remembers the pleasure of pushing him around in the wheelchair he used after catching polio as a student. And because she didn't know him for long, she has spent time researching his life, combing through boxes in the garage, and re-discovering her father through his music.
Music choices include some of her father's favourite songs, including a little-known song about gluttony which is a protest against the cruelty of foie gras. She includes too Glenn Gould's recording of a Haydn Piano Sonata which kept her going through long nights in Washington when she was writing speeches for Bill Clinton. The speeches were about impending financial crisis and, as an economist, Stephanie has weathered many financial crises, able to unpick the deepest workings of both the Treasury and the City and explain them to a mass audience. She is not afraid to shake up the status quo: an unmarried mother, she challenged David Cameron on tax breaks for married women, and her blog speaks out about "the over-mathematization of economics at the expense of common sense".
The programme ends with a preview of a new recording of Donald Swann's "Bilbo's Last Song", setting words by Tolkien.
Produced by Elizabeth Burke
A Loftus production for BBC Radio 3.
Six mind-expanding music podcasts to download in 2019
Archive Unlocked: Two Decades of Private Passions