Main content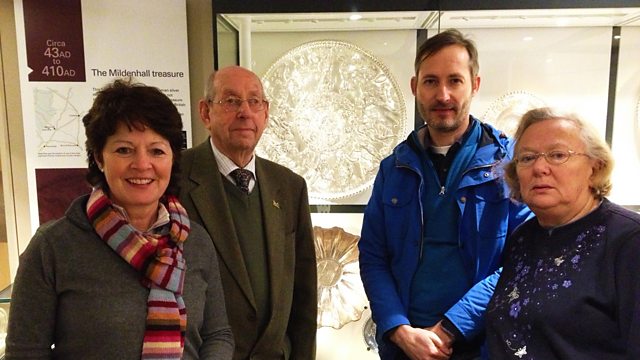 The Mildenhall Treasure
In January 1942, the Mildenhall Treasure was pulled from a field in West Row in Suffolk. Helen Mark meets the people re-examining the site to discover who buried it and why.
In January 1942, Gordon Butcher was ploughing a field in the village of West Row, near Mildenhall in Suffolk. His plough hit something solid, and on further investigation discovered a circular piece of metal. Sensing he'd found something significant he went and found his boss Sydney Ford, and for the rest of the afternoon he and Ford pulled piece after piece from the ground. What they found was in fact a Silver thirty-two piece set of Roman tableware, and it remains the greatest find of its kind in the UK. 'The Mildenhall Treasure' as it became known went on display in the British Museum, and the story of this extraordinary find was captured by Roald Dahl in a short story of the same name.
Helen Mark visits the find site to find out about a new joint-project between the British Museum and Suffolk County Council which aims to identify exactly where the treasure was buried and why, and to better understand the archaeological context of this find. Richard Hobbs from the British Museum tells the story of the Treasure, and Faye Minter and the detectorists talk about their work on the find site and how they've grown up with stories about it. She visits Mildenhall Museum in which a replica of the find is housed and finds out what this incredible Treasure still means to Ford's Grandson Sydney Holder.
Producer: Toby Field.
Last on
Broadcasts

Podcast
Countryside magazine featuring the people and wildlife that shape the landscape of Britain