Main content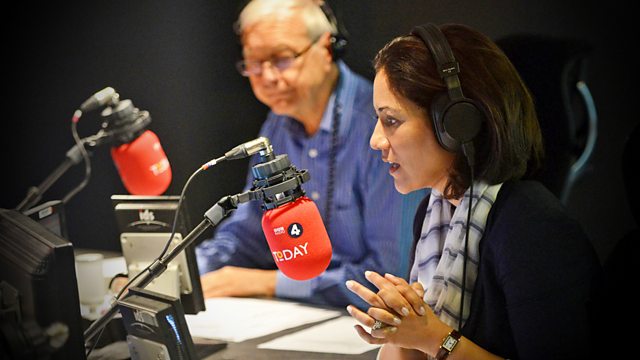 28/01/2017
Morning news and current affairs. Including Yesterday in Parliament, Sports Desk, Weather and Thought for the Day.
Today's running order
0710
The veteran actor Sir John Hurt has died aged 77. He had pancreatic cancer.  His career spanned six decades and included films such as The Elephant Man, Alien and Harry Potter. Andy Moore is BBC's news correspondent.
0715
President Donald Trump has signed an executive action implementing "new vetting measures" that he says are aimed at keeping "radical Islamic terrorists" out of the United States. BBC's America correspondent, David Willis explains.
0720
Fresh from her trip to Washington to meet President Trump, Theresa May is flying direct to Ankara today for a meeting with President Erdogan. Mark Lowen is BBC's Turkey Correspondent.
0725
Lorry drivers should be banned from using satellite navigation systems designed for cars, councils have claimed. The plea was made following a spate of heavy goods vehicles (HGVs) causing chaos on routes where they exceeded the weight or height limit. Councillor Martin Tett is the Local Government Association's transport spokesman.
0730
Theresa May became the first foreign leader to be hosted by President Trump at the White House yesterday, giving the special relationship renewed vigour. "Our relationship has never been stronger" said Trump, who called it a "most special relationship". Steve Hilton is former Downing Street adviser to David Cameron.  
0740
On this week's Meet the Author, James Naughtie talks to the novelist Chris Cleave about his latest book, Everyone Brave Is Forgiven".
0750
Trading Standards has failed to inform nearly 300,000 people that they are on fraudsters' hit lists despite knowing they are at risk of being scammed again, according to the Telegraph. Paul Lewis is the BBC Money Box presenter and Sir Steve Webb is former Pensions Minister and now Director of Policy at pension firm Royal London.
0810
At the press conference yesterday Theresa May said Donald Trump had told her he was "100 per cent behind NATO" – she put his words on the record, whilst he chose to say nothing about the alliance during the press conference. Ted Poe sits on the Foreign Committee in Congress and a Trump supporter and Raimundas Karoblis is Lithuanian Defence Minister.
0820
The veteran actor Sir John Hurt has died aged 77. He had pancreatic cancer.  His career spanned six decades and included films such as The Elephant Man, Alien and Harry Potter.  Peter Bradshaw is the Guardian's film critic.
0830
A new project, aimed at reducing the numbers of people dying unnecessarily in hospitals in England at the end of their lives, has received funding from NHS England. Hospices UK are the umbrella charity for hospice care in the UK. Tracey Bleakly is CEO of Hospice UK.   
0840
After 200 years under lock and key in the royal inner sanctum, all the letters, diaries and family documents of one of our most important monarchs, George III are finally about to emerge from the vaults. Oliver Urquhart Irvine is a Librarian and Assistant Keeper of the Queen's Archives.
0850
What are we to make of Donald Trump's first week as President? It's been a hectic week -  – a week which ended with him holding hands with the British Prime Minister, before signing another executive order authorising "extreme vetting" of immigrants. Sir Peter Westmacott is former British ambassador to the United States; General Sir Richard Shirreff is former deputy commander of NATO forces and Bonnie Greer, a playwright and author.
All subject to change.