Main content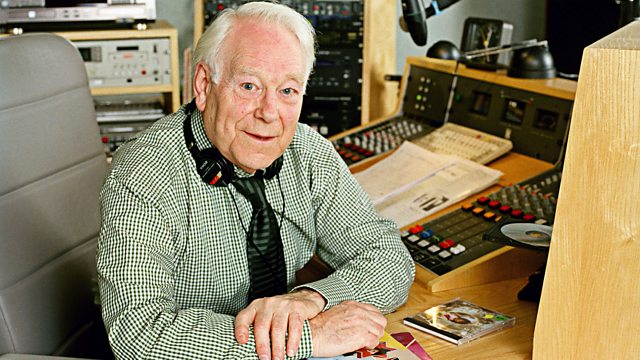 Desmond Carrington - All Time Great
Clare Teal celebrates Desmond Carrington with Petula Clark, the late David Jacobs, John Alderton, Mark Radcliffe, Ken Bruce, producer Dave Aylott and Jarvis Cocker.
It was with great sadness that we at Radio 2 learned that Desmond Carrington had passed away on February 1st 2017. In this celebratory programme, recorded just before that date, we reflect on his wonderful life and work.
For over 70 years Desmond Carrington was a part of the lives of millions who tuned in to enjoy that famous velvet voice and his warm and sparkling company. For his faithful audience, Desmond managed that rare trick. He became more than a man with a microphone. He became a friend.
Desmond turned 90 in May last year and retired on the 28th October 2016, due to ill health. He had been presenting his show, The Music Goes Round (originally called All Time Greats) since October 1981.
Clare Teal celebrates the music Desmond played and the old school charm he exuded.
With the help of contributions from Petula Clark, John Alderton, Jim Moir, Mark Radcliffe, Ken Bruce, producer Dave Aylott and Jarvis Cocker, plus archive clips of Desmond's work on the BBC (and the Armed Forces Radio Networks) dating back to 1945, including his memories with lifelong friend the late David Jacobs, she looks back over his long, varied and distinguished career as an actor and broadcaster.
Last on
Head of Radio 2 Lewis Carnie pays tribute to a truly great broadcaster
Music Played
The Johnny Mann Singers

Up, Up And Away

Two Way Family Favourites (Disc 1).
Castle.

Bobby Darin

There's a Rainbow 'round My Shoulder

Oh! Look At Me Now.
Capitol records.
3.

Moonmaids Plus One

Route 66

Curtain Call Vol 2.
Montpelier.
4.

Russ Morgan

There Goes That Song Again

There Goes That Song Again.
1.

Ray Conniff

On the Street Where You Live

Broadway In Rhythm.
Columbia.

Peter Yorke

Emergency Ward 10

The A-Z Of British TV Themes (Vol.3).
Play It Again, Sam.

Stanley Black

Carousel Waltz

BROADWAY BLOCKBUSTERS.
VOCALION.

Vera Lynn

Wish Me Luck as You Wave Me Goodbye

Hits Of The Blitz.
His Master's Voice.
14.

Enoch Light and the Light Brigade

Moonlight Serenade

The Big Band Sound Of The Thirties.
Project 3 Records.
6.

Jack Payne

Say It With Music

The Irving Berlin Song Book - Say It With Music.
Conifer.
1.

Philip Jones Brass Ensemble

Susato Suite

Renaissance Brass (Music From 1400-1600).
Argo.
5.

John Charles Thomas

The Lord's Prayer

Timeless Voices: John Charles Thomas Vol 2.
RCA Victor.
1.

Michael Bublé

Feeling Good

Mel Tormé

That's All

Jazz Legends - Crooners.
Columbia.
13.

Al Fairweather

&

Sandy Brown

The Music Goes 'round and around
Broadcasts