Main content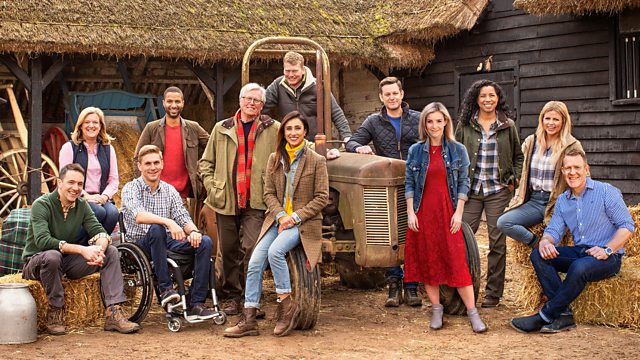 Carmarthenshire
Countryfile is in Carmarthenshire, where Matt Baker explores the explosive history of the sand dunes and Helen Skelton visits the National Botanic Garden of Wales.
Countryfile is in Carmarthenshire, where Matt Baker explores the explosive history of the sand dunes. Helen Skelton visits the National Botanic Garden of Wales, discovering how they're mapping the DNA of every flower in the country and how they're preparing their bees for winter.
Falklands veteran Simon Weston shows Countryfile around his beloved South Wales and, in the second part of a special series, Adam Henson is in New Zealand to find out how they farm on the other side of the world. What happens when a protected species recovers to the point it impacts rural businesses and other wildlife? Tom Heap reports on a new initiative aimed at saving fisheries from otters.
Dynamite dunes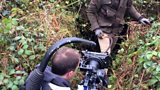 Carmarthenshire's coastline is a beautiful expanse of sand stretching as far as the eye can see. You'd have no idea that 100 years ago, Pembrey Country Park was a crucial linchpin in Britain's war efforts and home to a vast munitions factory. Matt Baker meets archaeologist Alice Pyper who shows him the eerie tunnel remnants of the nitro-glycerine factory. Many of these units have been reclaimed by the landscape but a clue on Alice's map leads them to a lost site where they hope to uncover another of the factory units.
All the flora of Wales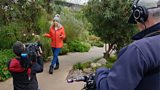 Helen Skelton's at the National Botanical Garden of Wales – an 18th Century manufactured landscape and Water Park. As well as a massive restored kitchen garden, it now has the largest Dome in the world enclosing a Mediterranean landscape and plants. Helen meets the  scientists extracting and cataloging the DNA of all 1479 species of plants native to Wales. Nowhere else in the world has carried out such an operation on the plants around them. 
Discover more about the DNA project
Otters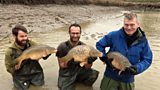 When does a protected species become successful enough for that protection to be removed? Tom meets the fishery owners worried that the resurgence of otters in our rivers and waterways is putting their businesses at risk. Some carp are worth thousands of pounds to their owners as anglers will pay to catch them over and over again, but just one otter in the fishery could send the business under. Now a new scheme hopes to help the owners without harming the otters.
My Countryside with Simon Weston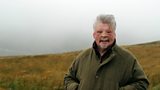 This week we meet Falkland's veteran Simon Weston as he shows us around his beloved South Wales. We explore the Brecon Beacons, where as a young man, Simon used this landscape as both his playground and later as a soldier, his training ground. We discover how this beautiful and rugged landscape can be a dangerous place and at times can be unforgiving. We also take a trip back in time and visit Nelson Mountain, a place close to his heart and a place he uses to escape and find solitude. 
Winter bees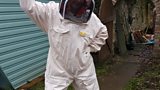 Back at the National Botanical Garden of Wales Helen dons the bee-keeping kit and meets the bees which are so important to the research happening here. They are kept, not for their honey, but for scientific research. Helen helps the beekeeper volunteers with winter maintenance of the apiary and discovers exactly what bees do over the winter. 
Arapawa Island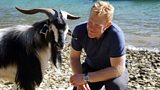 This week Adam continues his journey through New Zealand and is on the hunt for a very elusive and old English breed of goat that settled here over 200 years ago. In 1773 and 1777 the famous explorer Captain James Cook made two voyages to Arapawa island with animals on board. Amongst his special travellers he had an old English breed of goat. It is well documented by Cook that he released some of the goats on the island for food.  Adam is on a difficult mission to find the descendants of these rare goats that have lived here ever since. 
Dune management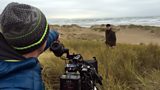 The site for the munitions factory at Pembrey was chosen because nearby sand dunes provided protection against the explosive materials. These days it is the dunes themselves that need protection. But this invading force is a force of nature, Sea Buckthorn was planted along the dunes to protect the woodland crop planted here after the war. Native to the east coast it is considered an invasive species here. Ranger Simeon Jones enlists Matt's help in a caterpillar-tracked flail cutter, the perfect lawn mower if you're mowing on shifting sand!
Credits
| Role | Contributor |
| --- | --- |
| Presenter | Matt Baker |
| Presenter | Helen Skelton |
| Presenter | Adam Henson |
| Presenter | Tom Heap |
| Participant | Simon Weston |
| Executive Producer | William Lyons |
| Series Producer | Joanna Brame |