Main content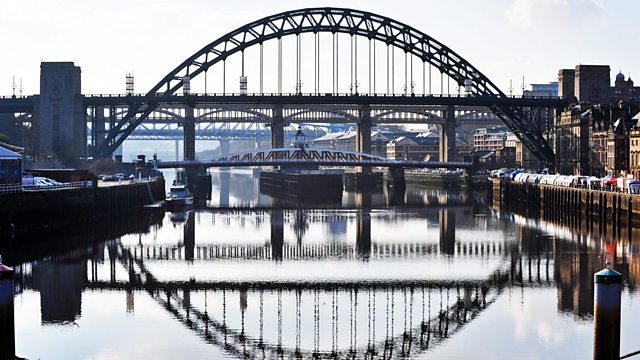 The Bridge
The Bridge: A sequence of poetry, prose and music on the theme of bridges, with readings by Paapa Essiedu and Alice St Clair.
The Bridge - both an exhilarating leap in the dark and a feat of engineering. Bridges shape our world whether they're constructions thrown across a raging torrent or synaptic sparks that convert incomprehension into meaning. The latest RSC Hamlet, Paapa Essiedu and Alice St Clair, the star of William and Catherine: A Royal Romance, take us from West to East on the Galata Bridge in Istanbul; we join them on the fateful Tallahatchie Bridge; and brood on the rainbow bridge that inspired Wagner ; there's time too to peer into the Thames with Wordsworth or wonder at the spectres crossing it with T S Eliot. The path leads between light and dark, gravity and weightlessness and despair and hope .... a hair-raising but all-too-familiar balancing act!
Producer: Zahid Warley.
Music Played
Timings (where shown) are from the start of the programme in hours and minutes
Geert Mak

First sight of the Galata Bridge, read by Paapa Essiedu

Geert Mak

First sight of the Galata Bridge, read by Paapa Essiedu

Geert Mak

First sight of the Galata Bridge, read by Paapa Essiedu

W. H. Auden

As I walked out one Evening, read by Alice St Clair-Erskine

Thomas Hood

The Bridge of Sighs, read by Paapa Essiedu

Seamus Heaney

Scaffolding, read by Paapa Essiedu

Rainer Maria Rilke translated by Leonard Cottrell

Pont du Carrousel, read by Paapa Essiedu

T. S. Eliot

From The Waste Land, The Burial of the Dead, read by Alice St Clair-Erskine

William Wordsworth

Composed upon Westminster Bridge, September 3, 1802, read by Paapa Essiedu

R. S. Thomas

Ninetieth Birthday, read by Paapa Essiedu

Octavio Paz translated by Eliot Weinberger

The Bridge, read by Alice St Clair-Erskine

Geert Mak

From The Bridge (Last sight of the Galata Bridge), read by Alice St Clair-Erskine

Producer's Notes: The Bridge

You know how the old joke goes – a weary and confused traveller asks a local the way to the big city only to be told - "Well, if I were you, I wouldn't start from here."  Bridges are a kind of answer to that kind of question though as often as not we play both the traveller and the local.  When we don't know how to get from A to B or from A to Z we devise something - a bridge.  It can be made of stone or steel or it can be altogether weightless – one of the rope bridges the mind strings across incomprehension.

This evening's Words and Music, with the actors Paapa Essiedu and Alice St Clair, examines the notion of the bridge and attempts to make one.  It begins with a famous musical doodle – Bach's aria from the Goldberg Variations - and leaps from there to Istanbul's Galata Bridge which links Europe with Asia.  It's not long before we're waltzing along under the Pont Mirabeau with Léo Ferré, or flowing lugubriously across London Bridge with T. S. Eliot.  There's a bit of loitering under the arch of a railway bridge while W. H. Auden cocks an ear to a lover's song; some sighing with Thomas Hood; and a dizzy descent into the mechanical heart of Tower Bridge where Iain Chambers recorded his musique concrete composition – Bascule Chambers. You get the idea…. as E. M. Forster once famously said -- only connect.   

 

Producer: Zahid Warley