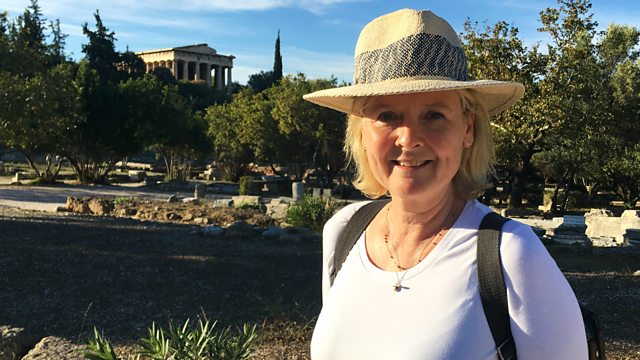 Gift of the Gods
Beekeeper and classicist Martha Kearney travels to Greece to explore how honey, the sweetest thing known to humans for thousands of years, shaped our world mythically, socially and politically.
Martha visits the legendary birthplace of Zeus, a cave in Crete where the baby God was said to have been raised by bees, and the Archaeological Museums of Heraklion and Eleftherna to look at bee artefacts from the Bronze Age with Professors Katerina Kopaka and Nikos Stampolides.
She goes to the Ancient Agora in Athens to see where the fabled honey of Attica was sold and journeys to Mount Hymettus on the trail of beehives at an ancient farmhouse. She visits Cretan beekeepers Dimosthenis Issaakidis and Mihalis Tsigenis to compare modern beekeeping methods with those from antiquity, and discusses the impact of honey on society and politics with archaeologist Lucia Nixon over sacred honey drinks.
Producer Dixi Stewart.