Main content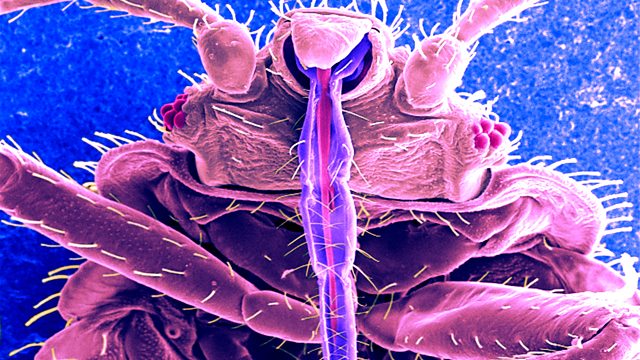 Parasitism
Melvyn Bragg and guests discuss Parasitism, the relationship between two species where one benefits at the expense of the other, sometimes killing the host or causing disease.
Melvyn Bragg and guests discuss the relationship between parasites and hosts, where one species lives on or in another to the benefit of the parasite but at a cost to the host, potentially leading to disease or death of the host. Typical examples are mistletoe and trees, hookworms and vertebrates, cuckoos and other birds. In many cases the parasite species do so well in or on a particular host that they reproduce much faster and can adapt to changes more efficiently, and it is thought that almost half of all animal species have a parasitic stage in their lifetime. What techniques do hosts have to counter the parasites, and what impact do parasites have on the evolution of their hosts?
With
Steve Jones
Emeritus Professor of Genetics at University College, London
Wendy Gibson
Professor of Protozoology at the University of Bristol
and
Kayla King
Associate Professor in the Department of Zoology at the University of Oxford
Producer: Simon Tillotson.
Last on
Parasites feed on us, can destroy us and yet strengthen us at the same time.
LINKS AND FURTHER READING
Wendy Gibson at the University of Bristol
Steve Jones at University College, London
Kayla King at the University of Oxford
Parasitism – Wikipedia
Parasites - Centers for Disease Control and Prevention.
Intestinal parasites of King Richard III – University of Leicester
The text of The Microbe Hunters by Paul de Kruif 
Rats, Lice and History by Hans Zinsser
Guinea worm eradication program - The Carter Center
Neglected tropical diseases - World Health Organisation
Grand challenges research program - Gates Foundation
Worm therapy: why parasites may be good for you – BBC Future
Toxoplasmosis – NHS
READING LIST:
Robert S. Desowitz, New Guinea Tapeworms and Jewish Grandmothers: Tales of Parasites and People (W. W. Norton & Company, 1987)
Jared Diamond, Guns, Germs and Steel: A Short History of Everybody for the Last 13,000 Years (Vintage, 1998)
Gerald W. Esch, Parasites and Infectious Disease: Discovery by Serendipity and Otherwise (Cambridge University Press, 2007)
Timothy M. Goater, Cameron P. Goater, Gerald W. Esch, Parasitism: The Diversity and Ecology of Animal Parasites (Cambridge University Press, 2013)
Steve Jones, Evolution: A Ladybird Expert Book (Michael Joseph, 2017)
Paul de Kruif, The Microbe Hunters (first published 1926; Houghton Mifflin, 2002)
Matt Ridley, The Red Queen: Sex and the Evolution of Human Nature (Penguin, 1994)
Paul Schmid-Hempel, Evolutionary Parasitology: The Integrated Study of Infections, Immunology, Ecology, and Genetics (Oxford University Press, 2008)
Carl Zimmer, Parasite Rex: Inside the Bizarre World of Nature's Most Dangerous Creatures (Simon & Schuster, 2002)
Hans Zinsser, Rats, Lice and History (first published 1935; Transaction Publishers, 2008)
Credits
| Role | Contributor |
| --- | --- |
| Presenter | Melvyn Bragg |
| Interviewed Guest | Steve Jones |
| Interviewed Guest | Wendy Gibson |
| Interviewed Guest | Kayla King |
| Producer | Simon Tillotson |
Broadcasts

Featured in...
Browse the 20th Century era within the In Our Time archive.

Scientific principles, theory, and the role of key figures in the advancement of science.