Main content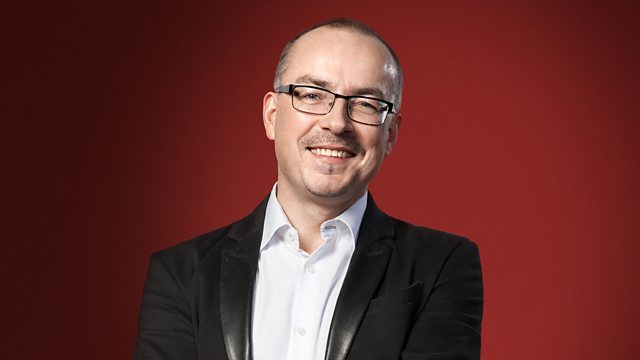 Building a Library: Beethoven: String Quartet No 12
With Andrew McGregor. Including Building a Library: Beethoven: String Quartet No 12; Recent vocal releases, including Cesarini, Mozart and Mendelssohn; Disc of the Week.
with Andrew McGregor.
0930
Building a Library on the first of Beethoven's late, great string quartets, Op.127 in E flat major. Stephen Johnson compares recordings of the first of the five extraordinary string quartets which were to be Beethoven's last works, and which stand alone in terms of sheer scale, length, and complexity. Stephen has been listening to recordings spanning eight decades to find the best recording for your library.
1030
Renowned soprano Elin Manahan Thomas chats to Andrew about her favourite discs from a selection of recent vocal releases including Cesarini from Stéphanie Varnerin, Mozart from Regula Mühlemann and Mendelssohn from the Balthasar-Neumann-Ensemble
1145
Andrew chooses an outstanding new release as his Disc of the Week.
9am
Shostakovich: Piano Concertos Nos. 1 & 2
SHOSTAKOVICH: Piano Concerto No. 1 in C minor for piano, trumpet & strings Op. 35; Piano Concerto No. 2 in F major Op. 102; String Quartet No. 2 in A major Op. 68, iii. Waltz (arr. B Giltburg); String Quartet No. 8 in C minor Op. 110 (arr. B Giltburg)
Boris Giltburg (piano), Rhys Owens (trumpet), Royal Liverpool Philharmonic Orchestra, Vasily Petrenko (conductor)
NAXOS 8573666 (CD)
Morfydd Owen: Portrait of a Lost Icon
OWEN: Spring; Mother's Lullaby; The Lamb; Rhapsody in C sharp minor; Tristesse; Maida Vale; Tal y Llyn; Little Eric; Glantaf; To Our Lady of Sorrows; Prelude in E minor; Four Flower Songs; Gweddi y Pechadur; Branwen; Sonata for Piano in E minor; Chorale (from Piano Quintet); The Land of Hush-a-bye
Elin Manahan Thomas (soprano), Brian Ellsbury (piano)
Ty Cerdd TCR 014
Elbphilharmonie Hamburg: The First Recording (Brahms: Symphonies Nos. 3 & 4)
BRAHMS: Symphony No. 3 in F major Op. 90; Symphony No. 4 in E minor Op. 98
NDR Elbphilharmonie Orchester, Thomas Hengelbrock (conductor)
SONY 88985405082 (CD)
Voyages - Organ transcriptions
BACH, J S: Cantata BWV29 'Wir danken dir, Gott, wir danken dir': Sinfonia (trans. Dupre)
CHOPIN: Prelude Op. 28, No. 4 (trans. Liszt)
DEBUSSY: Preludes - Book 1: No. 10, La cathedrale engloutie (trans. Roques)
FALLA: Ritual Fire Dance (from El amor brujo) (trans. Latry)
FAURE: Sicilienne from Pelleas et Melisande (trans. Robilliard)
KHACHATURIAN: Sabre Dance from Gayane (trans. Kiviniemi)
LISZT: Legende S.175 No. 2, St. Francis of Paola walking on the waves (trans Reger)
MENDELSSOHN: Variations serieuses in D minor Op. 54 (trans. Smits)
RIMSKY KORSAKOV: Flight of the Bumble Bee (trans. Saint-Martin)
SAINT-SAENS: Danse macabre Op. 40 (trans. Lemare)
WAGNER: Tristan und Isolde: Prelude & Liebestod (trans. Lemare)
Olivier Latry 'Rieger organ of the Paris Philharmonie'
ERATO 9029588850 (CD)
9:30am - Building a Library
Composer: Ludwig van Beethoven
Piece: String Quartet No. 12 in E♭ major, op. 127
Reviewer: Stephen Johnson
Building a Library: Beethoven's String Quartet No 12, Op. 127
Recommended recording (historic / mono): Busch Quartet
Adolf Busch & The Busch Quartet: The Complete Warner Recordings
Warner 2564601931  (16CD)
Recommended recording (modern / stereo): Belcea Quartet
Beethoven: String Quartets Nos. 1-16
ALPHA 262 (8CD)
10:20am - New Tchaikovsky
Tchaikovsky: Symphonies Nos. 4-6
TCHAIKOVSKY: Symphony No. 4 in F minor Op. 36; Symphony No. 5 in E minor Op. 64; Symphony No. 6 in B minor Op. 74 'Pathetique'
Arctic Philharmonic, Christian Lindberg (conductor)
BIS BIS2178 (2Hybrid SACD)
Tchaikovsky: Symphonies Nos. 3, 4 & 6
TCHAIKOVSKY: Symphony No. 3 in D major Op. 29 'Polish'; Symphony No. 4 in F minor Op. 36; Symphony No. 6 in B minor Op. 74 'Pathetique'
Royal Liverpool Philharmonic Orchestra, Vasily Petrenko (conductor)
ONYX ONYX4162 (2CD)
10.40am – Elin Manahan Thomas on new vocal recordings
Mozart Arias
MOZART: Schon lacht der holde Fruhling, KV580; Geme la tortorella (from La finta giardiniera); Da schlagt die Abschiedsstunde (from Der Schauspieldirektor); Voi avete un cor fedele, K217; S'altro che lacrime (from La clemenza di Tito); Durch Zartlichkeit und Schmeicheln (from Die Entfuhrung aus dem Serail); Strider sento la procella (from Lucio Silla); Vorrei spiegarvi, oh Dio! K418; Exsultate, jubilate, K165
Regula Muhlemann (soprano), Kammerorchester Basel, Umberto Benedetti Michelangeli
SONY 88985337582 (CD)
MENDELSSOHN: Elias (Elijah) Op. 70
Genia Kuhmeier (soprano), Ann Hallenberg (contralto), Lothar Odinius (tenor), Michael Nagy (baritone), Balthasar-Neumann-Ensemble, Balthasar-Neumann-Chor-und-Solisten, Thomas Hengelbrock (conductor)
DEUTSCHE HM 88985362562 (2CD)
Sebastian Duron: Music For Two Dynasties
DURON: Dulce armonia, a 8, responsion general a san Francisco Javier; ¡Ay, infelice de aquel agresor!; Duerme, rosa, descansa, duo; ¡Ay, como cantan,…!; Cupidillo volante; Dulcisimo dueno; Vaya pues rompiendo el ayre; ¡Volcanes de amor,…!; Corazon, que suspiras atento; ¡Ah, Senor embozado!; Dulce clarin sonoro
La Grande Chapelle, Albert Recasens
LAUDA LAU016 (CD)
Carlo Francesco Cesarini: Cantatas
CESARINI, C F: Fetonte, e non ti basta; Filli, no'l niego, io dissi (La Gelosia); Gia gl'augelli canori (L'Arianna); Oh dell'Adria reina; Penso di non mirarvi; V'e una bella tutta ingegno
Stephanie Varnerin (soprano), L'Astree, Giorgio Tabacco (conductor)
APARTE AP136 (CD)
The Cardinal King
BOLIS: Cinque Assoluzzione: 1; Cinque Assoluzzione: 2; Cinque Assoluzzione: 5; Jesu quaeritis Nazarenum; Laudate pueri; Miserere; Letanie della Madonna Santissima
COSTANZI: Ave Maria
JOMMELLI: Oculi omnium
TESSARINI: Allettamento da camera in G Op. 3, No. 2
ZAMBONI: Splende la fredda luna; O memorie funeste; O come sei gentile; Feritevi, ferite
Cappella Fede, Harmonia Sacra, Peter Leech
TOCCATA CLASSICS TOCC0300 (CD)
11.45am – Disc of the Week
Shostakovich: Violin Concertos Nos. 1 & 2
SHOSTAKOVICH: Violin Concerto No. 1 in A minor Op. 99; Violin Concerto No. 2 in C sharp minor Op. 129
Frank Peter Zimmermann (violin), NDR Elbphilharmonie Orchester, Alan Gilbert (conductor)
BIS BIS2247 (Hybrid SACD)