Main content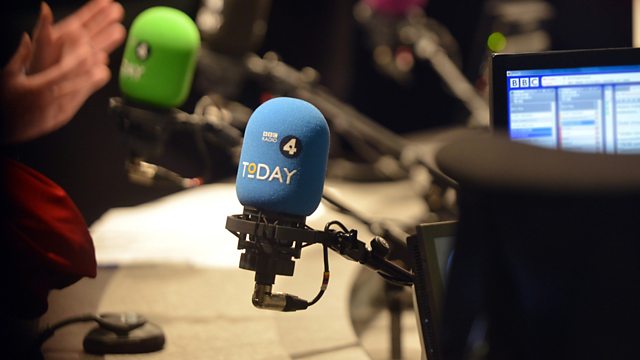 25/01/2017
Morning news and current affairs. Including Yesterday in Parliament, Sports Desk, Weather and Thought for the Day.
Today's running order
0650
A new guide is being launched to educate people about DNA analysis and address misconceptions about the science. Dr Denise Syndercombe-Court is a reader in forensic genetics in King's College. 
0655
Our personality traits are linked to differences in the thickness and volume of various parts of our brains, an international study has suggested. Dr Luca Passamonti is from the department of clinical neurosciences in Cambridge University.
0710
MPs have repeated their call for the government to publish its plan for Brexit in a formal policy document. Tim Farron is the leader of the Liberal Democrats.
0715
Bird flu has been found in a flock of pheasants at a farm in Lancashire, the Department for Environment, Food and Rural Affairs has confirmed. Dr Chris Smith is a virologist at Cambridge University.
0720
A key question for Donald Trump's new administration is what to do about Afghanistan. The international combat mission there ended in 2014 but the Taliban and other militant groups have gained territory and continue to inflict huge casualties on Afghan forces and the civilian population. Justin Rowlatt is the BBC's South Asia correspondent.
0730
The Grammar School Heads Association has warned that grammar schools in England may ask parents for hundreds of pounds a year to cope with funding cuts. Today's Ross Hawkins reports.
0740
From tomorrow there will be two England cricket teams playing in India because the country's best blind and partially sighted players leave today to join Eoin Morgan's team for their own Cricket World Cup. The BBC's Rob Bonnet reports. 
0750
President Trump is expected to sign several executive orders relating to immigration in the next few days. James Carafano led the Trump transition team at the department of Homeland Security.
0810
MPs have repeated their call for the government to publish its plan for Brexit in a formal policy document. Shami Chakrabarti is the shadow attorney general and Lord Michael Howard is the former leader of the Conservative Party.
 0820
Women workers are facing a barrage of dress codes and image pressures at work, a parliamentary report has found. Emma Supple is a consultant podiatrist in College of Podiatry and Emma Hope is a shoe designer.
0830
Iran, Russia and Turkey have closed two days of peace talks by saying they will work together to enforce a three-week-old ceasefire in Syria. Dr Lina Khatib is the head of the Middle East and North Africa programme at Chatham House.
0840
Three black women - at a time of segregation and prejudice in the States - played pivotal roles in NASA's mission to put astronauts on the moon, but are still not household names. Bola Fatimilehin is the head of diversity at the Royal Academy of Engineering and Anita Bernie is a black, female space scientist.
0850
Following yesterday's ruling by the Supreme Court, who will be plotting to delay Brexit and how will whips steer the process? Michael Cockrell is a film maker and Westminster journalist and Rachel Sylvester is a political columnist in The Times.
All subject to change.