Main content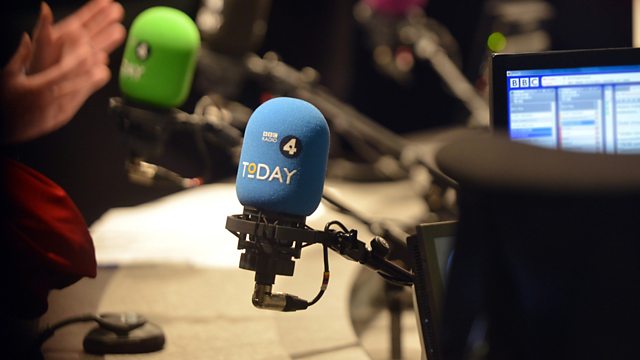 24/01/2017
Morning news and current affairs. Including Yesterday in Parliament, Sports Desk, Weather and Thought for the Day.
Last on
Today's running order
0650
Members of the Commons environment committee have said flood management in England and Wales is still fragmented, inefficient and ineffective. Jim Fitzpatrick is acting chair of the environment, food and rural affairs select committee.
0655
Later today the nominations for the 89th Academy Awards will be unveiled. Who are the likely nominees? Will Gompertz is the BBC's arts editor.
0710
Theresa May will discover how The Supreme Court ruled on the Brexit case and whether she has the power to start negotiations at a time of her choosing or whether she must ask Parliament to vote first. Lord David Hope was deputy president of the Supreme Court for four years.
0715
Donald Trump has begun his first full week as US President by formally withdrawing the US from the Trans Pacific Partnership. Professor Ngaire Woods is Dean of the Blavatnik School of Government at Oxford University and Alexander Downer is Australian high commissioner to London.
0720
What do Palestinians make of the new American President? The mayor of Jerusalem believes the United States is serious about moving its embassy from Tel Aviv to Jerusalem. Haneen Zoabi is a Palestinian member of Israeli Knesset.
0730
Two brothers who trafficked people from Poland to the UK and forced them to work have each been jailed for six years. Kevin Hyland is the UK's first Independent Anti-Slavery Commissioner.
0740
The final work of the Northern Irish poet, Seamus Heaney, will go on sale from tonight, with a limited edition release of a handful of books. The BBC's Siobhan Tighe reports.
0750
As Theresa May prepares for her trip to meet President Trump on Friday, a potential trade deal is high on her agenda. But what could a good trade deal mean for British farmers? Bob Young is chief economist at the American Farm Bureau Federation and Martin Haworth is director of strategy at the National Farmers Union.
0810
The Supreme Court will declare the ruling on whether Brexit negotiations can be started when Theresa May wants or whether she has to ask Parliament to vote first. Nick Robinson reports and Laura Kuenssberg is the BBC's political editor.
0820
The sequel to Danny Boyle's Trainspotting is in cinemas this week. Rick Smith is from the band Underworld and worked on the soundtrack for the new Trainspotting film.
0830
Bernie Ecclestone's 40 year reign at Formula 1 is over. He's been removed from his position by the sport's new owner, Liberty Media. Kevin Easton is a journalist and author who has covered Formula 1 for the past 20 years and Zak Brown is executive director of the Formula 1 team McLaren.
0835
Peace talks aimed at finding a way to end nearly six years of war in Syria are continuing today in the Kazakstani capital Astana. Today's Mike Thomson and the BBC's chief international correspondent Lyse Doucet report.
0845
A new book claims there is still more for us to understand about the horrors that occurred and the events that lead to the start of the holocaust. Laurence Rees is a historian and former head of BBC history.
0850
New research suggests our genes could strongly influence how we use, and are affected by, online media such as social networking and gaming. Ziada Ayorech from the Institute of Psychiatry, Psychology & Neuroscience at King's College London is the lead author of the study.
0855
Thomas Telford was one of Britain's greatest engineers - how did his work shape our landscape and what is his legacy today?  Julian Glover is the author of 'Man of Iron, Thomas Telford and the Building of Britain' and Sir Terry Morgan is chief executive of Crossrail.


All subject to change:
Broadcast