Main content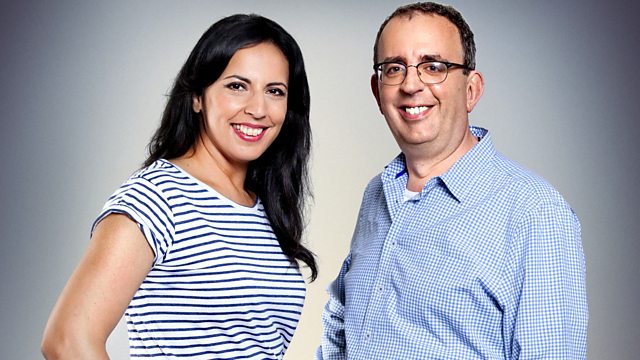 Martin Kemp
Aasmah Mir and the Rev Richard Coles are joined in the studio by musician & actor Martin Kemp, shepherdess & mother of nine Amanda Owen and Paul Sinha of the Chase.
Martin Kemp didn't realise when he was shifting kit for big brother Gary's band Spandau Ballet, that his future lay not back stage but ON stage. Invited to play bass in the band which conquered the world, with wedges and pantaloons and bandanas, he met and married backing singer Shirley from Wham, morphed into an actor in the Krays and in Hollywood, did a decade playing everyone's favourite wicked cockney Steve Owen on EastEnders and is now able to pick and choose pretty much how to delight us, notwithstanding the life limiting effects of a brain tumour at the end of the nineties.
Today Amanda Owen is a shepherdess on a hill farm in the Yorkshire Dales - in charge of 1,000 sheep, 9 children, 1 husband, a Sunday Mirror column and a Twitter account. But it was a chance encounter that led to her crazy, remote life.
Dr Charles Eugster. He is not only as fit as a fiddle, a body-builder, and a multi-podiuming champ in rowing and athletics, he also won his last British championship at long jump last year AT THE AGE OF NINETY SEVEN.
So you've got a nice career, it's going well and then you go and do something completely different... sounds familiar? Well Paul Sinha has done it twice. First he was a nice respectable doctor but decided to become a comedian. Then he decided to become a quiz player on ITV's daily show The Chase.
Michaela Strachan, who was the smelling salts in Wide Awake Club, and the her in Hit Man and Her, may now be found in combats in a sweaty tent deep in a muddy field... not raving these days but keeping very still and quite for Naturewatch on BBC2. She's made that difficult transition from children's to young adults' to grown up's television presenter and has learnt a trick or two: so we crept up on her hide, as hedgehogs and water voles and weasels scattered into the bushes, and forced her to hand over her Inheritance Tracks.
and much more.........
Presented by Aasmah Mir and the Reverend Richard Coles
Producer: Maire Devine.
Presenters and guests in the studio - 28th January 2017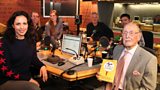 Credits
| Role | Contributor |
| --- | --- |
| Presenter | Aasmah Mir |
| Presenter | Rev. Richard Coles |
| Interviewed Guest | Martin Kemp |
| Interviewed Guest | Amanda Owen |
| Interviewed Guest | Charles Eugster |
| Interviewed Guest | Paul Sinha |
| Interviewed Guest | Michaela Strachan |
| Producer | Maire Devine |