Main content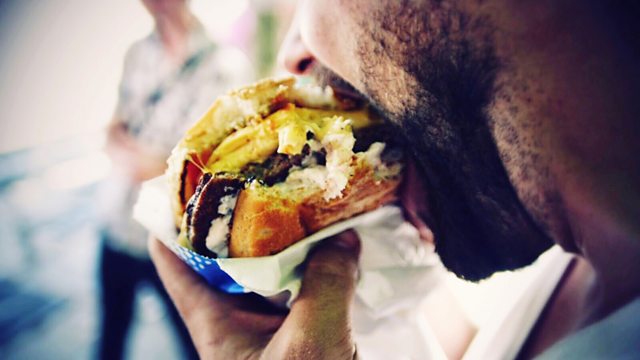 Street food, Car insurance, Hobbycraft
Has street food lost its authenticity now it's being served on plates in normal restaurants; and are you overestimating your mileage and paying too much for your car insurance?
Tesco has announced it's merging with the wholesaler Booker. What does this mean for shoppers? Catherine Shuttleworth from Savvy Marketing analyses why Britain's biggest supermarket is making this move.
Street food is the big food trend of the last few years - this year You & Yours is leading the search for the best Takeaway and Street Food vendor in the UK for the Food and Farming Awards. Today we report from Digbeth in Birmingham which is hosting a street food market, and speak to Tom Maher from the Original Patty Men about whether street food can really be street food when it's served in a restaurant.
Are you sure you know what your annual car mileage is? New research from USwitch suggests more than a quarter of drivers are guessing their annual mileage when they renew their car insurance, and they could make some big savings if they're overestimating.
Arts and crafts is now big business in the UK - worth £3 billion. Hobbycraft, the UK's biggest craft supplies store, is reaping the benefits and sales are booming. We speak to the boss on how bloggers are helping them drive traffic to their shops.
Cape Verde is seeing more tourists visiting for winter sun holiday packages, now tradtional resorts like Tunisia and Egypt have suffered from terror attacks. We find out how Cape Verde's economy is benefiting.
Some rail companies are experiencing so many train delays and cancellations that their delay repay systems for refunds are...delayed. We find out how difficult it can be to get a refund if you're delayed on a journey.
Last on
Chapters
Tesco

The Chain is to merge with the UK's largest cash and carry operator, Booker.

Duration: 04:04

Street Food

Can street food restaurants still offer authentic street food?

Duration: 06:33

Car Insurance

uSwitch suggests a quarter of drivers risk being over charged.

Duration: 05:38

Hobbycraft

Interview with Hobbycraft about their expansion driven by renewed interest in crafting.

Duration: 07:22

Charity Scam

Fraudsters are sending out spam emails pretending to be from a charity.

Duration: 02:41

Cape Verde

How cape Verde has seen a surge in tourists following terror attacks in Tunisia and Egypt

Duration: 07:13

Delay Repay

Train customers are experiencing delays with...delay repay, the rail compensation service

Duration: 04:52

Broadcast