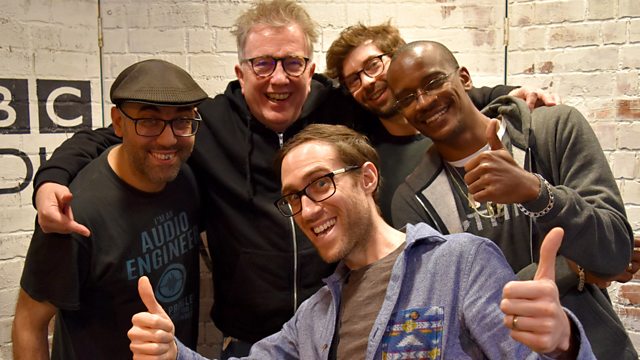 Beardyman and the Masters of Distraction use made-up song titles to create an album!
Now Playing welcomes Beardyman & The Masters Of Distraction who create an album using listener made up song titles, live in the hub.
In the second hour Beardyman and band are live in the hub using listener made up song titles as inspiration to create a completely live and made up album there and then. Made up of Beardyman on loops and effects, MC Leen on vocal duties, Rob on Cello and Emre on drums the four piece create a completely original 11 track album, never heard before, not even by the band. Everyone is hearing the 11 tracks for the first time.
Darren Foreman better known as Beardyman, is a British multi-vocalist, musician, and comedian from London renowned for his beatboxing skills and use of live looping. Having won the UK Beatbox Championships in 2006 he went on to retain the title the year after, however it was mixing his beat box styles with technology that led to his trademark live shows. Through his use of loop pedals and effects tools, he effectively produces whole DJ sets via live production-entire sets where the songs (both covers of well-known hits and his own original material) are constructed, live, from his vocalisations.
You choose the music, so get your best 'one take wonder' song suggestions to Tom via the hashtag #OneTakeWonder6Music to help create the playlist or email nowplaying@bbc.co.uk.
Last on