Main content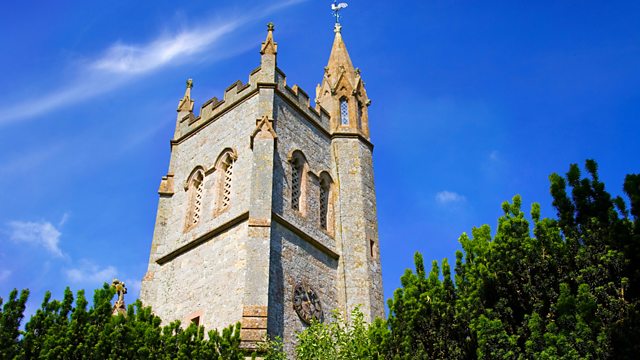 Living in God's Kingdom
A service from Wade Street Church, Lichfield, led by the Rev Ian Hayter.
We join the congregation of Wade Street Church, an ecumenical Baptist and United Reformed Partnership in Lichfield, to consider what it means to be a disciple of Jesus and bring the values of the Kingdom of God into the local community. The minister, the Rev Ian Hayter, and members of the church will lead us in our worship and reflection. The producer is Andrew Earis.
Script
Please note:
This script cannot exactly reflect the transmission, as it was prepared before the service was broadcast. It may include editorial notes prepared by the producer, and minor spelling and other errors that were corrected before the radio broadcast.
It may contain gaps to be filled in at the time so that prayers may reflect the needs of the world, and changes may also be made at the last minute for timing reasons, or to reflect current events.
ANNO: BBC Radio 4. It's ten past eight and time to go live to Wade Street Church in Lichfield for Sunday Worship. It's led by the Minister, the Rev Ian Hayter,
WELCOME: IAN HAYTER
Good morning and welcome to Lichfield, Staffordshire's premier heritage city. Our building is an elegant Georgian chapel, the centre for a Local Ecumenical Partnership with  the United Reformed Church and Baptist Union.
MUSIC - WE ARE HERE TO PRAISE YOU (x2)
 Our vision is to be "a church at the heart of the city, with Christ at the heart of the church", and we'll be exploring a little of what that means for the life of the local community – both for those who live in this residential street and the thousands who pass through the Three Spires Shopping Centre just a couple of hundred metres away - in our worship today.
It's in recalling what God has already done for us that we find confidence to continue living for him.  And worshipping him here together for his majesty, splendour and amazing love fuels our work and witness in the rest of the week.
And so we pray:
PRAYER: RACHEL WHITBY-SMITH
I will give thanks to you, Lord, with all my heart;
I will tell of all your wonderful deeds.
I will be glad and rejoice in you;
I will sing the praises of your name, O Most High.
Loving God, holy and majestic,
we offer you our praise and worship this morning.
Thank you for the grace and peace which you offer us
through the work of your Son Jesus Christ
and for the affirming and empowering activity of your Holy Spirit.
We pray in the name of our Lord and Saviour, Jesus Christ.
Amen.

Ian Hayter:
We affirmed in our opening song that we're here to praise God, so we continue to do that as we sing Henry Francis Lyte's great hymn, Praise, my soul, the King of Heaven. 
MUSIC - PRAISE MY SOUL, THE KING OF HEAVEN
IAN
We are going to hear two readings from the Bible this morning, passages which have been very influential in forming a vision for our work here.  The first, from the Old Testament, is part of Jeremiah 29.  The prophet Jeremiah sends a letter to his fellow citizens who have been carried off into exile in Babylon telling them what he has heard from God about their situation – it's a message of hope in the long term, but also a call to get on and make the most of life in the short term. 
 
READING: JEREMIAH 29.4-14 (GEOFF HAIGH)
This is what the Lord Almighty, the God of Israel, says to all those I carried into exile from Jerusalem to Babylon: "Build houses and settle down; plant gardens and eat what they produce. Marry and have sons and daughters; find wives for your sons and give your daughters in marriage, so that they too may have sons and daughters. Increase in number there; do not decrease. Also, seek the peace and prosperity of the city to which I have carried you into exile. Pray to the Lord for it, because if it prospers, you too will prosper." Yes, this is what the Lord Almighty, the God of Israel, says: "Do not let the prophets and diviners among you deceive you. Do not listen to the dreams you encourage them to have. They are prophesying lies to you in my name. I have not sent them," declares the Lord.
This is what the Lord says: "When seventy years are completed for Babylon, I will come to you and fulfill my good promise to bring you back to this place. For I know the plans I have for you," declares the Lord, "plans to prosper you and not to harm you, plans to give you hope and a future. Then you will call on me and come and pray to me, and I will listen to you. You will seek me and find me when you seek me with all your heart. I will be found by you," declares the Lord, "and will bring you back from captivity. I will gather you from all the nations and places where I have banished you," declares the Lord, "and will bring you back to the place from which I carried you into exile."
We thank God for his word.
MUSIC - PRAISE IS RISING

IAN
That song reminds us that our encounter with God in worship gives us strength to face the day ahead, strength to live out the values of his Kingdom, his godly rule, where broken lives are made new.  The work of God's people here in Lichfield is real and practical – our worship inspires and motivates us to share what we believe about the transforming power of God's love in action in our community, with the aim of putting into practice what we believe– giving shape, if you like, to the values of the Kingdom of God in the wider community. We are now going to hear from a member of our community, Rick Hill, who tells us about the' Late Night Listeners Initiative'.
TESTIMONY 1: RICK HILL
When I became a Christian about 30 years ago I quickly realised that talking about my faith meant nothing unless it was backed up by action.
For the past couple of years I've led Lichfield Late Night Listeners. Every Saturday a group of 6 to 8 Christians from all the churches in the city serve free refreshments to night time revellers.  We talk with about 60 people every session, offering flip-flops for those ladies whose high heels have become too much for them, blankets, a place to sit and sober up. People are frequently grateful for the little we can do to help preserve their dignity when they've had a few too many.
But What do you say to a couple whose son has just been sent to prison or to the sobbing girl who thinks she's fat?  We offer a word of encouragement, a listening ear, a hot drink and a short prayer.  We meet all sorts, from the drunk who really wishes they weren't, to someone who has been out on the town who is now feeling very lonely. We ensure they get home safely with the support of friendly cabbies.
Whilst the prospect of being out till gone 2am is not very appealing on a cold winter's night, the experience of being with friends and making a difference is incredibly rewarding. In our fleeting encounters with people throughout the night, we try to offer peace and hope.
MUSIC - HOLY SPIRIT, LIVING BREATH OF GOD
IAN
The words of that new hymn by Keith Getty and Stuart Townend are becoming very popular in some churches. They acknowledge one important way we encounter God - through his Word, the Bible.  It's our constant prayer that that will make a difference to us in some way, that the Holy Spirit will cause God's word to come alive in us, transforming our attitudes and inspiring us to action.  Our second reading – this time from the New Testament – takes us into Paul's letter to the Christians in Rome.  After eleven chapters of setting out what he believes and passionately arguing the case for faith in Jesus Christ, Paul now tells his readers that all this has to make some difference in the way they live their lives day by day. 

READING: ROMANS 12.1-8 (ANN RUSHTON)
Romans Chapter 12 beginning to read at verse 1.
Therefore, I urge you, brothers and sisters, in view of God's mercy, to offer your bodies as a living sacrifice, holy and pleasing to God—this is your true and proper worship. Do not conform to the pattern of this world, but be transformed by the renewing of your mind. Then you will be able to test and approve what God's will is—his good, pleasing and perfect will.
For by the grace given me I say to every one of you: Do not think of yourself more highly than you ought, but rather think of yourself with sober judgment, in accordance with the faith God has distributed to each of you. For just as each of us has one body with many members, and these members do not all have the same function, so in Christ we, though many, form one body, and each member belongs to all the others. We have different gifts, according to the grace given to each of us. If your gift is prophesying, then prophesy in accordance with your faith; if it is serving, then serve; if it is teaching, then teach; if it is to encourage, then give encouragement; if it is giving, then give generously; if it is to lead, do it diligently; if it is to show mercy, do it cheerfully.
We thank God for his word.
SERMON: IAN HAYTER
As followers of Jesus, living as part of the wider community inevitably brings its tensions.  Here we are, comfortably well off and living a relatively privileged life, wanting to be accepted and part of what's going on around us, but conscious all the time of our calling to live according to a different set of values.  Are we simply to withdraw into our own little world and try to stand against the consumerism and commercialism in which so many others put their faith?  Or do we open ourselves up to the risk of being sucked into a completely different mind-set as we involve ourselves in the life of the society around us?
The people of Israel to whom Jeremiah was writing in the words we heard read a few moments ago felt a similar sense of tension. 
They were in exile in Babylon, hundreds of miles from their homes and constantly yearning to  return to their land.  God's words to them through his prophet, though, tell them quite clearly that they're to make the most of the situation in which they find themselves.  They're not to retreat into a ghetto or cut themselves off from the life around them.  God tells them to settle down, live their lives as normally as possible and bring the attitudes and values of his Kingdom to bear on the community of which they're now a part.  "Build houses and settle down; plant gardens and eat what they produce. Marry and have sons and daughters; find wives for your sons and give your daughters in marriage, so that they too may have sons and daughters. Increase in number there; do not decrease." There will come a time when they return to their own land, but for now they are to involve themselves in their place of exile and pray for it.
That message continues on into the New Testament and informs all that we are and do as followers, as disciples of Jesus.  Christians look forward with a sure and certain hope to an eternity spent with Jesus in his Kingdom, but in the meantime we're called to live and work out our faith where we are, demonstrating the values and attitudes of the Kingdom of God, offering those around us a glimpse of that Kingdom.
That, of course, is what Jesus himself did during his time on earth.  As a human being he lived in a particular place and at a particular time – he was part of a community.  And in that community he talked and taught about what the Kingdom of God was – the renewed, restored creation under God's sovereign rule, just as God originally intended it to be before sin and evil leaked into it, perverting and distorting it.  This was the Kingdom that Jesus as Messiah had come to inaugurate, just as Isaiah and the other Hebrew prophets and preachers and poets had foretold.
But Jesus didn't simply talk about it – he modelled it.  He gave us glimpses of what this Kingdom would be like – a Kingdom where the oppressed would be liberated, where the ill and diseased would be made whole, where the despairing would be given hope, where the disenfranchised and disadvantaged would be given dignity and find their voice, where the unloved would be loved, where everyone would be at peace with God and with their neighbour.
And that is what he calls his followers to do as well.  In his magnificent Sermon on the Mount he speaks of his disciples acting like salt and light in the world, agents of change and examples of Kingdom living.  He constantly exhorts those who take his words seriously to live out their faith in ways that actually affect other people in positive ways.  You never get the sense from what Jesus says that Christians should retreat into the proverbial "holy huddles" or cut themselves off from the surrounding culture.  Just like those Jewish exiles in Babylon, those of us who claim to follow him should get stuck in and make a difference, whether in the inner city or provincial market towns, in the affluent west or the developing two-thirds world.
But it is important that we do not forget why we are doing what we are doing.  It would be very easy simply to assimilate to all that surrounds us, to become drawn into a system of values and attitudes that are at odds with those of the Kingdom of God – which is what Paul tells the Roman Christians in the words we heard just now.  Yes – get involved and live as part of the community, but instead of conforming to all that is going on around you, allow your attitudes to be transformed.  That's where our faith comes in.
Like so many other churches and parachurch organisations, this church tries to be involved in the life of the community in many different ways.  We try to give of our very best in whatever area of community life we are involved.  But that should be because we are doing it for God – he is our motivation.  It is the fact that he has first loved us and started to transform us that spurs us on to excellence.
Jesus preached about being salt and light, about doing good deeds in the community, but he was clear that the reason for that was that those who see those good deeds should have their gaze directed towards God.  One of Jesus' disciples, Peter, wrote a letter to the Christians scattered around the eastern Mediterranean in the first century and told them to live such good lives in the community" that they would not only not have any cause to criticise, but would actually "glorify God".
What Christians are about as followers of Jesus, the Kingly Messiah whose death and resurrection inaugurated the Kingdom of God, is living out his values and demonstrating his attitudes day by day – through the initiatives and projects that are part of the life of the church.  Tina and Rick told us a little of what they are doing – together with Christians from other churches in this city.  They are giving glimpses of life in the Kingdom of God, where the love of God can affect everyone, including – or maybe especially – those who might otherwise be overlooked or undervalued.
But we are all called to do that, to live out our faith – not just in the, if you like, formal initiatives and projects of the church, but also at the interface we all encounter between our belief in the transforming love of God and our daily work – that "frontline", as Mark Greene of the London Institute for Contemporary Christianity calls it: the place where most of us spend most of our time.  Our calling, as a church and as individual Christians, is to live as part of the community, praying for its peace and prosperity and living in such a way that others get glimpses of the Kingdom of God through our words and our work.  As they see that, then they may be drawn into that set of values and attitudes as well, and find their own lives transformed by the astounding love and grace of Jesus, the Kingly Messiah.
Our next hymn draws together many of those threads as we recognise our calling as Jesus' disciples, forgiven by God and empowered by the Holy Spirit, to take what we do here in church on Sunday into the life of the community for the rest of the week.
MUSIC - LORD, YOU CALL US AS DISCIPLES (T. ABBOTS LEIGH)
PRAYERS: KATE ARDEN-WHITE
Let us pray.
We pray for Lichfield, and for our country as a whole, that you would bless us with wholeness and peace: for our schools, local businesses, councils, and our emergency and health services. We pray for all those working through Voluntary Services, and through local churches.
We bring to You those in our communities who are facing difficult times: through bereavement, loneliness, poor mental or physical health; or changes in relationships or circumstances. Please comfort and restore them and fill them with Your peace, and hope.
Lord in Your mercy, Hear our prayer.
We pray for our broken world and for those caught in horrendous conflict and need. We cry to You for those living where there is war and violence; for refugees and asylum seekers; for people in desperate poverty; and we remember Christians and others facing persecution. And, we pray especially for those who've lost hope. In our minds we hold before You images which we have seen this week in the media. Thank you that in sending Jesus you demonstrated that You are with those who suffer, and that You share the pain of our human condition.
Lord in Your mercy, Hear our prayer.
We pray for all in leadership, or about to take on leadership roles, nationally, internationally and locally, for encouragement and wisdom. We pray for our church leaders; We pray also for our children and young people that You would grow their faith.
Thank you for giving us Your Holy Spirit to strengthen us and to walk with us. Lord, help us to be a church that shares Your love and grace: that is Your presence where people are hurting and that celebrates with people in their joy.
Lord in Your mercy, Hear our prayer.
Let's pray together the prayer that Jesus taught us…..
Our Father in Heaven,
Hallowed be Your name,
Your kingdom come,
Your will be done on earth as in heaven.
Give us today our daily bread,
And forgive us our sins
As we forgive those who sin against us,
And lead us not into temptation,
But deliver us from evil;
For the kingdom, the power,
And the glory are Yours,
Now and forever, Amen.
Our final hymn is by the great Charles Wesley and is a prayer that we might go into the week ahead aware that God is with us in every situation and determined to live out our faith.  Wesley subtitled this hymn "For believers before work", so it seems a particularly appropriate hymn in the light of all that we have heard this morning.
MUSIC - FORTH IN THY NAME, O LORD, I GO
BENEDICTION: IAN HAYTER
God of our whole lives,
we go from this building to serve you
in the places where you have called us to live and work.
May what we have done here this morning inspire us,
encourage us and empower us
to live out the values of your Kingdom:
and in so doing may we point others towards you
and bring glory to you,
who, with Jesus Christ your Son, our Saviour
and the Holy Spirit, our Comforter and Guide,
reign eternally over all things in heaven and on earth.
Amen.

MUSIC  - LORD, I LIFT YOUR NAME ON HIGH