Main content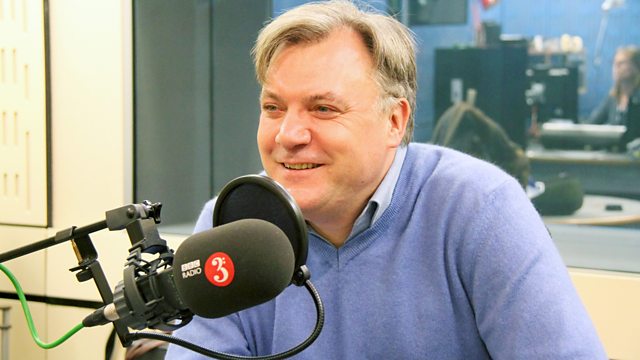 Thursday - Rob Cowan with Ed Balls
With Rob Cowan. Including Musical challenge; Music in Time: Renaissance; Artist of the Week: Georg Solti, featured conducting the conclusion of Wagner's Das Rheingold.
9am
Rob sets the tone and mood of the day's programme with a range of music to intrigue, surprise and entertain.
9.30am
Take part in today's musical challenge: trace the classical theme behind a track from the world of pop music.
10am
Rob's guest this week is the former front-bench politician, Ed Balls. After leaving a promising career in journalism, Ed became a Labour MP in 2005. He went on to be Secretary of State for Children, Schools and Families under Gordon Brown and Shadow Chancellor under Ed Miliband. Since leaving politics Ed has found fame as a dancer on Strictly Come Dancing (remaining in the competition much longer than most expected!) and he's recently brought out an autobiography, Speaking Out, a record of a life in politics and a window into the world of Westminster. He played the violin for 15 years and in adult life became a keen pianist, working publicly through grade exams and other performance milestones. Throughout the week Ed will be sharing some of his favourite classical music, including pieces by Handel, Bruch and George Dyson.
10.30am
Music in Time: Renaissance
Today, Rob's in the Renaissance period, exploring collections of music published in the late 1500s for performance during the season of the Venice Carnival.
Double Take
Rob explores the nature of performance by highlighting the differences in style between two recordings of a piano piece by Chopin.
11am
Artist of the Week
Rob's artist of the week is the conductor Sir Georg Solti. Solti was one of the twentieth century's leading musicians, leaving a vast legacy of over 250 studio recordings, including 45 complete operas. Born in Hungary he studied under Béla Bartók and worked at the Hungarian State Opera as a répétiteur. After leading a number of German opera houses, Solti took the helm at London's Covent Garden and was later director of the Chicago Symphony Orchestra and the London Philharmonic Orchestra.
In the 1950s and early 1960s Solti was a powerhouse rostrum presence, as the rather melodramatic photos of him in action would suggest, but a good deal more than that. Solti could bring gravitas to Beethoven, warmth to Mendelssohn, and a dramatic impulse to Wagner, adapting his approach to suit the style and mood of the music. Throughout the week Rob shares recordings from early in Solti's career including symphonies by Mendelssohn, Beethoven, Mahler, ballet by Offenbach and the conclusion to Wagner's Das Rheingold.
Wagner
Rheingold (conclusion)
Kirsten Flagstad (soprano)
Claire Watson (soprano)
Oda Balsborg (soprano)
Jean Madeira (mezzo soprano)
Hetty Plümacher (contralto)
Waldemar Kmentt (tenor)
Set Svanholm (tenor)
George London (baritone)
Eberhard Wächter (baritone)
Kurt Böhme (bass)
Walter Kreppel (bass)
Vienna Philharmonic Orchestra
Georg Solti (conductor).
Musical Challenge: Classical Roots
The answer to today's challenge was Johannes Brahms, whose Hungarian dance No.5 provided the tune for 'Rap City' by the Ventures.