Main content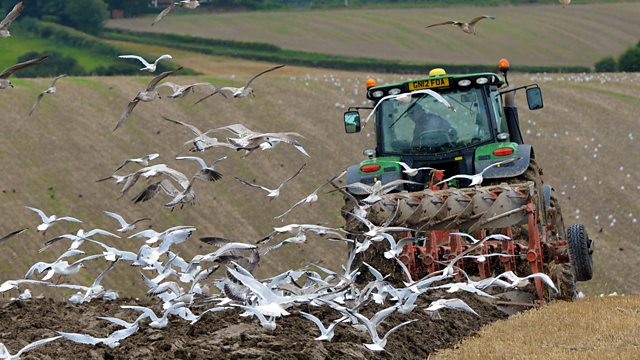 Sons and Daughter of the Soil
A sequence of poetry, prose and music on the theme of working on the land, with readings by Emilia Fox and Alex Jennings.
Emilia Fox and Alex Jennings with a selection of readings and music reflecting the lives of those who work the land, including poems by
Robert Frost, Thomas Hardy, Sasha Dugdale, Dylan Thomas and Virgil. Music of an agricultural nature comes from Benjamin Britten, Debussy, Duke Ellington, Scott Walker and Ivor Gurney among others.
Producer: Torquil MacLeod.
Music Played
Timings (where shown) are from the start of the programme in hours and minutes
Thomas Hardy

We Field-Women, read by Emilia Fox

John Clare

The Milking Hour, read by Alex Jennings

Sasha Dugdale

Shepherds, read by Emilia Fox

Robert Frost

The Gum Gatherer, read by Alex Jennings

James K. Baxter

Farmhand, read by Emilia Fox

Christopher Marlowe

The Passionate Shepherd to his Love, read by Alex Jennings

W.B. Yeats

The Lake Isle of Innisfree, read by Emilia Fox

Dylan Thomas

Fern Hill, read by Alex Jennings

W.D. Ehrhart

The Farmer, read by Emilia Fox

Seamus Heaney (BBC Radio 3 Archive)

Digging, read by Seamus Heaney

William Wordsworth

The Solitary Reaper, read by Alex Jennings

Virgil (translated by C. Day Lewis)

Georgics, read by Alex Jennings

R.S. Thomas

Soil, read by Emilia Fox

Producer's Notes: Sons & Daughters of the Soil

Working the land is an increasingly rare occupation in industrialised societies, but two centuries ago most of us would have been sons and daughters of the soil.  Hardly surprising then that this close working relationship with nature – its attendant pleasures and hardships – has for a long time been a source of inspiration to writers and composers.   

We begin with The Merry, Merry Milkmaids played by The City Waites.  This is one of the dance tunes published by John and Henry Playford in the first edition of The English Dancing Master in 1651.  The title suggests an idealisation of the lot of agricultural workers which we shall encounter again elsewhere.

We meet another group of milkmaids in Thomas Hardy's We Field-Women.  This poem is a pithy distillation of the section in Tess of the D'Urbevilles which sees Tess and her fellow workers enduring a miserable winter in the cheerless fields of Flintcomb Ash, before returning with relief to the Vale of the Dairies when spring comes. 

While the artist who takes farming as their subject can sometimes appear to be an outsider, observing working-class life from a distance, this cannot be said of the poet John Clare.  His father was a farm labourer and Clare followed the same path as a child.  In The Milking Hour he sketches an idyllic scene – the narrator accompanies his milkmaid love across the fields in the early evening.  Absorbed in conversation as she milks the cows, they reminisce fondly about the times they have spent together, little knowing that this will be their last. 

The Little Shepherd is part of the Children's Corner suite that Debussy wrote for his daughter Chouchou.  Composed originally for solo piano, this transcription for bassoon by Bronislav Prorvich is played by Karen Geoghegan, accompanied by Philip Fisher.  It captures the wistful solitude of a shepherd playing his flute as he minds his sheep. 

A shepherd is a rare sight in the British landscape these days and more likely to be riding a quad bike than playing a flute.  In her poem Shepherds, Sasha Dugdale conjures up the shades of those who used to tend their flocks on the South Downs in Sussex but are now long gone.   

The Shepherd (Who Watches Over The Night Flock) is taken from Duke Ellington's Second Sacred Concert.  Both the Old and New Testaments of the Bible abound with shepherds, both real and metaphorical, and the idea of the good shepherd resonates through the Judeo-Christian tradition.  Pastors (derived from the old French for shepherd or herdsman) are still spoken of as looking after their flocks. 

Shepherding, as we have seen it portrayed so far, is a lonely business, as were other traditional ways of living off the land.  The man who Robert Frost's narrator meets in The Gum Gatherer lives on his own on the side of a mountain and makes his living by harvesting gum from spruces.  A pleasant life, according to the narrator, but then the outsider doesn't necessarily see the whole picture.                                                                                                    

But it's not all solitude in the countryside.  The third movement of Beethoven's Symphony No. 6 ('Pastoral') is titled Peasants' Merrymaking and evokes a welcome release from the hard slog of working in the fields.  You can almost hear the well-worn boots shaking the ground with exuberant dances. 

It's at another rural knees-up that we meet James K. Baxter's Farmhand, this time in New Zealand rather than Germany.  Standing outside the dance-hall, his awkwardness and reticence to join the young women inside is contrasted with his effortless self-assurance when he's about his work back on the farm. 

The farmboy in XTC's Love on a Farmboy's Wages has problems of a different nature.  He's met the woman who he wants to marry, but although they plan for their wedding, he can't see how it can ever happen while he earns so little. 

By contrast, Christopher Marlowe's Passionate Shepherd goes all out to entice the shepherdess who has caught his eye, listing the many gifts and delights that he can offer her.  Since these include slippers with gold buckles and a belt with coral clasps and amber studs, one can only conclude that watching over flocks was a surprisingly lucrative line of work in the Elizabethan era. 

While we muse upon 16th century agrarian economics, here's Stephen Jaffe's pastoral work The Rhythm of the Running Plough.  Jaffe took the title from these lines by the poet William Everson: 

The fragrance of the earth rises like tule-pond mist
Shrouding me in impalpable folds of sweet, cool smell,
Lulling my senses to the rhythm of the running plough,
The jingle of the harness
And the cries of the gleaming, bent-winged birds.

A return to the apparently simple and carefree existence of living off the land can seem very appealing to the jaded urbanite.  The life that W. B. Yeats proposes in The Lake Isle of Innisfree could hardly sound more inviting, but it smacks of an idealism that could only be conjured up by someone living in the heart of a city. 

At the same time, the hardship and isolation of a traditional rural life could make an aspirational farm worker yearn for the luxuries and excitements of urban living.  In the traditional song The Ploughboy – sung here by Peter Pears, in an arrangement by Benjamin Britten – the young lad has already escaped from the muddy furrow to become a footman and dreams of climbing higher and higher up the social ladder, eagerly embracing every means of advancement, no matter how corrupt. 

For Dylan Thomas, the childhood visits to his aunt's farm that he recalls in Fern Hill, have become bittersweet memories of a boyhood idyll, an innocent bucolic past from which he is forever banished. 

Scott Walker's Farmer in the City sounds like a man struggling to acclimatise himself to unfamiliar surroundings.  Although Walker was writing, albeit obliquely, about the death of writer and film director Pier Paolo Pasolini, the song reminds me of another Italian – Marcovaldo, the fictional creation of writer Italo Calvino.  Marcovaldo is a man from the country who moves to an industrial city and constantly attempts to pursue the rural habits and pastimes that are familiar to him, but in an urban environment.  The results are not entirely successful. 

In his poem The Farmer, W.D. Ehrhart plays with the metaphor of the writer as a labourer in the fields, toiling hard on unpromising soil with no certainty of a good harvest.  Seamus Heaney also draws parallels between writing and working the land in Digging, continuing the determined labour of his father and grandfather, but with a pen, not a spade.   

The passing of the skills and traditions of farming from one generation to the next is also celebrated by another Irish poet - Joseph Campbell - in I Will Go with My Father a-Ploughing, set to music by Ivor Gurney and sung by Susan Bickley. 

Wordsworth's poem The Solitary Reaper underlines again both the isolation that can go hand in hand with farming and how agricultural workers can seem remote and unknowable to outsiders (who may find themselves guilty of romanticising their lives).  Especially so in this case, when they are divided by language. 

There's another solitary figure in the landscape in Norwegian composer Harald Saeverud's short piano piece Hjuringen 'pi eismodal (Shepherd Boy's Lonely Vigil), part of his Tunes and Dances from Siljustol, his home in the countryside just outside Bergen. 

As mentioned earlier, until comparatively recently in human history, most people would have been involved in farming in some way (even today agriculture is still the largest global provider of jobs, employing over 1.3 billion people or close to 40% of the world's population).  Hardly surprising then to find references to horticulture and animal husbandry in classical literature.  Virgil's Georgics, published in 29 BC, is a poem specifically about these subjects, providing a 'how to' guide in hexameters.  In this extract, the poet ends by wistfully recalling the days before Jove ushered in the age of agriculture, when the earth gave freely of its bounty without incessant human toil. 

This is clearly a time that blues singer Big Bill Broonzy would have welcomed.  As a young man he worked as a sharecropper until his crop and stock were wiped out by drought.  In Plow Hand Blues he imagines how heartily sick of that life a man would be if he'd spent 40 years behind the plough. 

The Welsh poet R. S. Thomas challenged the cosy view of the traditional pastoral poem with vivid, unsentimental views of rural life, reflecting the harsh, impoverished existences he saw around him.  In Soil, the worker's world is defined and circumscribed by the earth from which he lifts swedes.  He almost grows out of the soil himself, a dogged, uncomplaining feature of the landscape. 

We end with a cautionary note on the unintended consequences of human cultivation of the land.  Virgil Thomson wrote the soundtrack for the 1936 documentary The Plow that Broke the Plains.  This film told the story of the Dust Bowl – the ecological disaster that hit the North American prairies during the 1930s as a result of drought and deep ploughing.  This final part of Thomson's suite is titled Devastation – a reminder that our sons and daughters of the soil have the capacity to do harm as well as good. 

 Torquil MacLeod 

(You can hear more about milkmaids from Victorian expert Kathryn Hughes on Free Thinking on Thursday 19th January at 10pm)