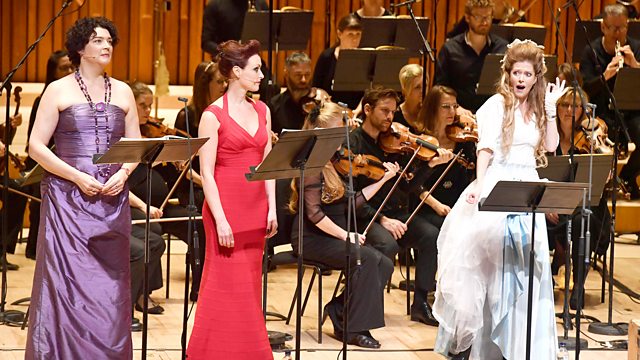 Gerald Barry - Alice's Adventures under Ground
Alice's Adventures Under Ground, the eagerly awaited European premiere of Gerald Barry's latest opera.
Tom McKinney talks to Gerald Barry about his latest work prior to its European premiere at London's Barbican Centre at the end of November. Inspired by Lewis Carrol's Alice in Wonderland and Alice Through the Looking Glass, Alice's Adventures Under Ground is a burlesque with the darkest of undertones: a game of croquet is conflated with 19th-century piano exercises, punctuated by the sounds of a guillotine, and a tune is stolen from Beethoven's Ninth Symphony. All are brought together in a madcap celebration of the furthest reaches of both language and music.
Before Alice, there's a chance to hear Gerald Barry's earliest operatic experiment in a first broadcast of a take on La Traviata which he made for Irish Radio in 1980.
Gerald Barry: La Traviata for Actors and Megaphones
Peig Monahan, Séamus Forde, Gerald Barry (actors)
rec. 1980
Gerald Barry: Alice's Adventures Under Ground (European premiere)
Barbara Hannigan - Alice
Allison Cook - Red Queen, Queen of Hearts, Duchess, Mock Turtle
Hilary Summers - White Queen, Dormouse, Tiger Lily, Mock Turtle, Cook
Allan Clayton -: White King, White Rabbit, Mad Hatter, Tweedledum, Frog Footman, Fawn
Peter Tantsits - March Hare, Tweedledee, Mock Turtle, Fish Footman
Mark Stone - White Knight, Cheshire Cat, Mock Turtle, Soldier
Joshua Bloom - Humpty Dumpty, King of Hearts, Red Knight, Mock Turtle
Britten Sinfonia
Thomas Adès conductor.
Last on
The old Teddy Bear whose noise inspired Barry's music for Alice's Adventures Under Ground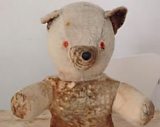 Stockhausen's Gruppen – What's the Big Deal?