Main content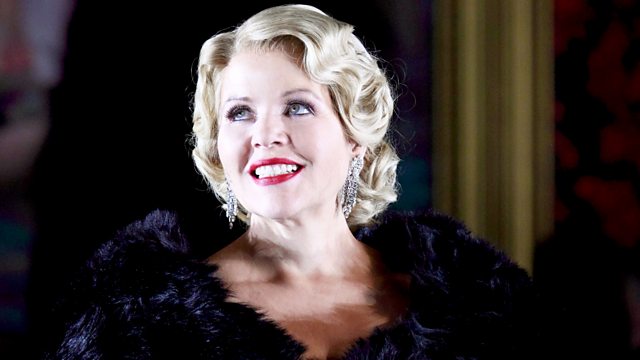 Strauss's Der Rosenkavalier
Live from the Royal Opera House, Covent Garden, soprano Renee Fleming stars in a new production of Strauss's comic opera Der Rosenkavalier, featuring conductor Andris Nelsons.
Live from the Royal Opera House, Covent Garden, Richard Strauss's bittersweet comic opera Der Rosenkavalier marked the start of one of the great artistic partnerships between the composer and the playwright Hugo von Hofmannsthal. In this new production by Robert Carsen, soprano Renée Fleming stars as the Marschallin and mezzo Alice Coote her young lover Octavian. Knowing their love will end, they plot together to save Sophie von Faninal (soprano Sophie Bevan) from a loveless marriage to the philandering Baron Ochs, sung tonight by the bass Matthew Rose. The Chorus and Orchestra of the Royal Opera House are conducted by Andris Nelsons, and Donald Macleod presents and chats with his guest, the writer and Viennese specialist Gavin Plumley.
Marschallin.....Renée Fleming (Soprano)
Octavian.....Alice Coote (Mezzo-soprano)
Sophie von Faninal.....Sophie Bevan (Soprano)
Baron Ochs.....Matthew Rose (Bass)
Faninal.....Jochen Schmeckenbecher (Baritone)
Valzacchi.....Wolfgang Ablinger-Sperrhacke (Bass)
Annina.....Angela Simkin (Mezzo-soprano)
Italian Singer.....Giorgio Berrugi (Tenor)
Marschallin's Major Domo.....Samuel Sakker (Tenor)
Faninal's Major Domo.....Thomas Atkins (Tenor)
Marianne.....Miranda Keys (Soprano)
Innkeeper.....Alasdair Elliott (Tenor)
Police Inspector.....Scott Conner (Baritone)
Notary.....Jeremy White (Bass)
Lackey / Waiter.....Dominic Barrand (Bass Baritone)
Royal Opera House Chorus
Royal Opera House Orchestra
Andris Nelsons (Conductor).
Synopsis
In this production the action is set in Vienna in 1911, the year of the opera's premiere.
Act I
Princess Marie Thérèse von Werdenberg, known as the Marschallin (the wife of the Austrian Field Marshal), has spent the night with her young lover, Octavian, Count Rofrano. They are sharing breakfast when voices are heard in the anteroom. Octavian quickly hides. The unexpected visitor turns out not to be the Marschallin's husband as
she feared, but her country cousin, Baron Ochs auf Lerchenau. After bragging about his latest amorous adventures, Ochs turns to the subject of his upcoming marriage to Sophie, the young daughter of the recently ennobled and extremely wealthy businessman, Herr von Faninal. Ochs has come to ask the Marschallin's advice as to which young aristocrat should be chosen to present his fiancée with the traditional silver engagement rose.
On a playful whim the Marschallin suggests Octavian himself, who has already emerged from his hiding place, disguised as a chambermaid. Ochs instantly starts making advances towards 'Mariandel', but 'she' manages to escape from him as the Marschallin's bedroom fills with the daily crowd of petitioners for the morning 'levée'. Among them is a pair of Italian intriguers, Annina and Valzacchi, whom Ochs hires to track down the pretty servant girl. When the room is cleared, the Marschallin, appalled by the thought of Ochs being married to an innocent young girl, reflects on her own unhappy marriage and her waning youth. Octavian returns and passionately declares his love, but he is surprised to find Marie Thérèse in a distant and melancholy mood. She can only think about the passing of time and tells him that the day will come when he will leave her for a younger woman. Hurt by her words, Octavian rushes off. The Marschallin summons her attendant Mohammed, and sends him after Octavian with the silver rose.
Act II
On the morning of her engagement, Sophie excitedly awaits the arrival of the Knight of the Rose. Octavian enters with great ceremony and presents her with the silver rose on behalf of Baron Ochs. The two young people feel an instant attraction to each other. Ochs, whom Sophie has never met, now arrives, and both she and Octavian are shocked by his crude manners. When Ochs leaves to discuss the wedding contract with her father, Sophie desperately asks Octavian to help her. Their growing affection leads them to their first kiss. Annina and Valzacchi have been spying on them and immediately summon Ochs, who takes in the situation with good humour. This infuriates Octavian even more: he draws his sword, and in so doing slightly grazes Ochs, who melodramatically calls for a doctor. In the ensuing confusion, Sophie tells her father that she refuses to marry Ochs, while Octavian enlists Annina and Valzacchi's help in developing a plan to ensure that the marriage will never take place. Left alone, Ochs nurses his hurt pride. Annina appears with a letter from 'Mariandel', asking the Baron for a rendezvous the next evening. The delighted Ochs rejoices in his latest amorous conquest.
Act III
In a house of ill-repute, Annina and Valzacchi prepare a private room for the Baron's rendezvous with 'Mariandel'. Ochs arrives and begins his seduction of the young girl over a private supper. 'Mariandel' is leading him on, when suddenly, frightening apparitions appear from secret panels. The Baron's confusion turns to alarm when Annina enters the room, disguised as a poverty-stricken mother with a group of children in tow, claiming that Ochs is their father. A police commissioner enters and attempts to restore order. When he interrogates Ochs as to his intentions with 'Mariandel', Ochs declares that she is in fact his fiancée. Faninal, summoned anonymously by Octavian, arrives now with Sophie, but Ochs pretends not to know either of them. This so upsets Faninal that he is taken ill and has to be carried off. At the height of the confusion, the Marschallin appears unexpectedly. Ochs is astonished to discover that 'Mariandel' is in fact Octavian in disguise, but his astonishment turns to thoughts of blackmail when he realizes what the real nature of the relationship is between the Marschallin and Octavian.
The Marschallin, losing all patience, informs her cousin that his marriage plans are finished and that he must leave. Ochs finally admits defeat and makes a swift exit, pursued by the innkeeper and numerous other creditors. Octavian, Sophie, and the Marschallin are left alone, each one reflecting on what has brought them to this moment. The Marschallin observes the loss of her lover to the younger woman, as she had predicted, and quietly leaves the room. The young lovers are left alone, wondering whether their future together is in fact merely a dream.
Robert Carsen