Main content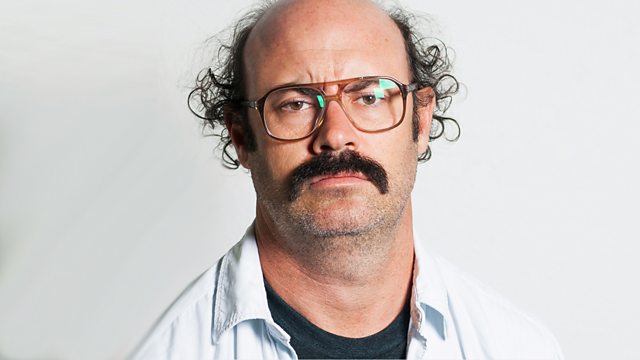 Comedy. Sam and Henry are trying to make a show about birds, but Sam keeps being distracted. Sam trudges through the desert in search of the Steppe Eagle.
Glenn
Sam Simmons Is Not a People Person Episode 4 of 4
Comedian. Writer. Ex-Zoo Keeper. Bird Watcher. Definitely NOT a people person.
Sam and Henry are making a documentary series about birds, each week - armed with Sam's 'Big Book of Birds' they seek out different species. Despite Henry's best efforts, Sam is continually aggravated by the people they run into. Each encounter sparks an investigation into Sam's past, because once they've sorted out his issues, they'll really be able to focus on the bird-watching.
This week finds Sam trudging through the desert in search of the Steppe Eagle.
The unique talents of the multi-award winning comedian Sam Simmons have landed on BBC Radio 4.
"If you can imagine someone combining the rage of Basil Fawlty with the lunacy of Spike Milligan you are getting somewhere close to Simmons. Painfully frank, riotously inventive and a deserving award winner." The Evening Standard (UK)
Written by and starring Sam Simmons
With:
Henry Paker
Sarah Kendall
Mike Wilmot
Freya Parker
Sound design by Craig Schuftan
Music by Craig Schuftan with Lani Bagley
Producers Joe Nunnery
Alexandra Smith
A BBC Studios Production.
Credits
| Role | Contributor |
| --- | --- |
| Actor | Sam Simmons |
| Actor | Henry Paker |
| Actor | Sarah Kendall |
| Actor | Mike Wilmot |
| Actor | Freya Parker |
| Producer | Joe Nunnery |
| Producer | Alexandra Smith |
| Writer | Sam Simmons |