Main content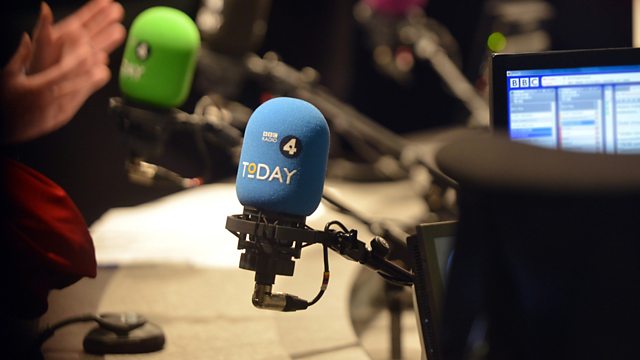 04/01/2017
Morning news and current affairs. Including Sports Desk, Weather and Thought for the Day.
Last on
Today's running order
0650
Andrea Leadsom is due to talk to farmers at the Oxford Farming Conference this morning. The theme of the event this year is 'Thrive or Survive' and will focus on issues facing the agriculture sector post-Brexit. What questions does the government need to answer on farming? Owen Paterson is the former environment secretary who campaigned for Brexit, and Minette Batters is the deputy president of the NFU.
0710
Article 50 will be triggered sometime in the next 12 weeks, beginning the process of Britain leaving the EU, but the position of representing this country in Brussels is to be vacant. Sir Ivan Rogers, whose abrupt resignation came on the first working day of the new year, told his staff he hoped they would never be afraid to speak truth to power. We speak to Sir Simon Fraser, former permanent secretary at the Foreign and Commonwealth Office and head of the UK Diplomatic Service.
0713
British Airways cabin crew are to stage a 48-hour strike after rejecting an offer aimed at resolving a pay dispute. Members of Unite will walk out on 10 January, threatening disruption to flights. Oliver Richardson is Unite national officer for civil aviation.
0720
Today is the last day you will be able to see Dippy, the diplodocus skeleton, at the Natural History Museum in London where it first went on display in 1905. The skeleton is about to be 'flat packed' and taken around the country, with a blue whale taking its position. We speak to Lorraine Cornish, head of conservation at the Natural History Museum.
0730
It is thought to make up more than a quarter of the entire universe but scientists can't find it. "It" is dark matter. Over the summer no fewer than three independent experiments reported that they had failed to find any trace of it. Despite a brief flurry of excitement the Large Hadron Collider has so far failed to make any progress, and astronomical observations have also come up empty handed. All of which has led some people to call for a new generation of even bigger and better detectors, but others to ask a rather more fundamental question: maybe they can't find it because it isn't really there. Our science editor Tom Feilden reports and we hear from Jon Butterworth, physics professor at University College London.
0743
What is the best way to describe fog? There was some concern expressed in yesterday's Daily Telegraph letters that fog should not be described by weather forecasters as "heavy". Whereas rain can be heavy, fog would be better described as thick. Professor Liz Bentley is chief executive at the Royal Meteorological Society.
0750
The good news for millennials in their 20s is that the gender pay gap has fallen to 5%. However as women approach their 30s and 40s the progress is undone. New research from the think tank The Resolution Foundation finds that there is still an enduring pay penalty with having children, and that the old challenges associated with having children endure for young women today. Jill Kirby is a writer and commentator on family policy and former director of the think tank the Centre for Social Justice. Jo Swinson is director of Equal Power Consulting and former business minister and Lib Dem MP.
0810
Britain's outgoing ambassador to the EU, Sir Ivan Rogers, has strongly criticised the government's preparations for Brexit. In a resignation letter obtained by the BBC, he urged his colleagues to continue to challenge what he called muddled thinking and ill-founded arguments. It means Theresa May will need to do the impossible, to replace a seasoned and experienced diplomat with someone equally intelligent, familiar with the workings of the EU and capable of getting the 'best possible deal' the government keeps promising, but who doesn't have any views. Jonathan Powell was chief of staff to Tony Blair from 1997 to 2007, and Iain Duncan Smith is a former Conservative leader and prominent Eurosceptic.
0820
Ryan Lock was a chef with no military experience when he joined the Kurdish forces to fight against so-called Islamic State in Syria. He was killed on 21 December in the battle for the Syrian city of Raqqa. We speak to Joe Robinson, a former soldier who also went to Syria to fight as a civilian with Kurdish militia.
0830
In March 1987, Daniel Morgan, a private investigator, was found murdered in a car park. He had been attacked so brutally that the murder weapon, an axe, was left embedded in his body. No one has ever been successfully prosecuted for the crime. His brother has appealed to the Prime Minister to continue with the second part of the Leveson Inquiry. Alastair Morgan said he believed a statutory inquiry into links between journalists, police and private investigators was essential, even though a panel is currently looking into these issues in connection with his brother's death. We hear from Daniel Morgan's brother Alastair Morgan, and the former Culture Secretary John Whittingdale.
0840
The renowned philosopher Derek Parfit died over the weekend. Parfit was an emeritus fellow at Oxford University and he was famous for his work on ethics and personal identity. Julian Baggini is a philosopher and founding editor of The Philosophy Magazine.
0847
Yesterday morning, in the sport news, we played you a recording of Manchester City boss Pep Guardiola getting shirty with the BBC's Damian Johnson after City's victory over Burnley. Football managers have had notoriously difficult relationships with the press, and we have been going through the archives. Jim White is a senior football writer for The Telegraph.
0851
Civil servants seem to be under fire in Europe and in the US. The UK's ambassador to the EU, Sir Ivan Rogers, has resigned. He was expected to play a key role in Brexit talks. He was criticised for saying a trade deal could take ten years rather than two years. President-elect Donald Trump has been regularly attacking the bureaucracy and its costs. Before and after the election, he promised a hiring freeze on federal workers. Jill Rutter is a former civil servant and now programme director at the Institute for Government. Charlie Wolf is a Conservative commentator and Trump supporter.
All subject to change.
Broadcast