Main content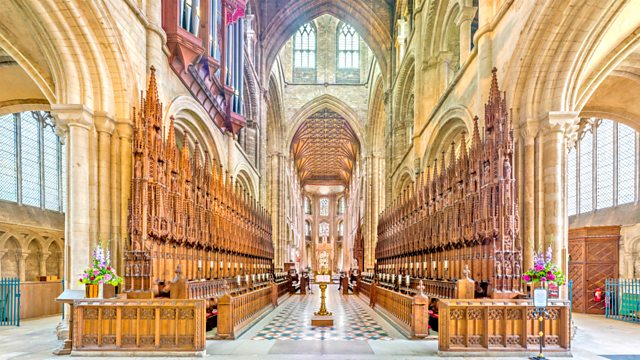 Peterborough Cathedral cash crisis; Church security; Did God create humanism?
Sunday morning religious news and current affairs programme, presented by Edward Stourton.
The majority of government money to improve security at places of worship went to Christian applicants. Edward Stourton asks Nick Tolson who sits on the Places of Worship Security Panel if this indicates that hate crime against Christians in the UK is under reported.
A year-long arts festival is about to begin at London's Southbank Centre, called 'Belief and Beyond Belief'. It aims to explore "what it means to be human" in the 21st century. It's the idea of the London Philharmonic Orchestra's principle conductor, Vladimir Jurowski.
Twelve people at Peterborough Cathedral have been made redundant as the bishop seeks to resolve a "cash flow crisis" there. Rosie Dawson investigates how serious levels of debt were allowed to build up.
Yolande Knell reports on the implications of a proposal by President elect Trump to move the U.S. Embassy from Tel Aviv to Jerusalem.
The Church of England has announced grants of £9 million to renew the church across 7 dioceses. The Bishop of Birmingham explains how he intends to use his cash and Sarah Major reports from one project at the heart of the initiative.
Theo Hobson's new book 'God Created Humanism', argues for the need to acknowledge humanism's Christian roots to create a more united society. Theo Hobson debates this with Julian Baggini from Philosophers' Magazine.
Jane Haining worked for the Scottish Mission School in Budapest and looked after Jewish girls at the Kirk run school. She was arrested by the Nazis in 1944 and died in Auschwitz. Her niece Deirdre McDowell tells Edward about some of the memorabelia that belonged to Ms Haining that will be featured on BBC 1's Antiques Roadshow.
Producers:
David Cook
Dan Tierney
Series Producer:
Amanda Hancox
Photo by David Iliff. License: CC-BY-SA 3.0.
Chapters
U.S. Embassy

A proposal has been made to move the U.S. Embassy from Tel Aviv to Jerusalem.

Duration: 05:02

Fresh Expressions

The C of E has announced grants of £9 million to renew the church across 7 dioceses.

Duration: 07:03

Belief and Beyond Belief

A year-long arts festival to explore "what it means to be human" in the 21st century.

Duration: 04:26

Church Security

Is hate crime against Christians in the UK under reported?

Duration: 04:04

Peterborough Cathedral

Redundancies at Peterborough Cathedral as the bishop seeks to resolve a "cash flow crisis"

Duration: 07:31

God Created Humanism

Author Theo Hobson argues for the need to acknowledge humanism's Christian roots.

Duration: 07:31

Holocaust

A special edition of the Antiques Roadshow will air in advance of Holocaust Memorial Day.

Duration: 06:21