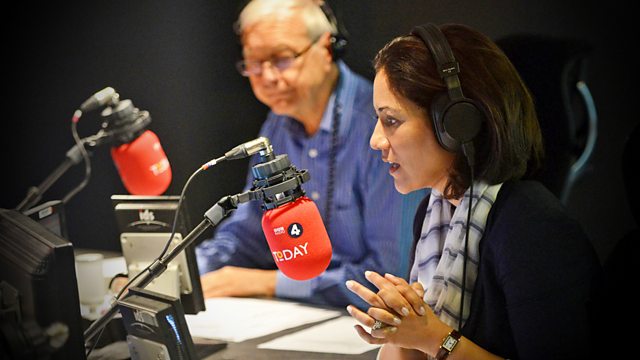 14/01/2017
Morning news and current affairs. Including Yesterday in Parliament, Sports Desk, Weather and Thought for the Day.
Last on
Today's running order
0750
A cross party group of MPs has called on the government to publish its Brexit plan by mid-February at the latest and for the Commons to get a vote on the final deal. Hilary Benn is the Chair of the Brexit Committee, Labour MP and former Shadow Foreign Secretary.
0810
By this time next week, Donald Trump will have been sworn in as President of the United States. John Negroponte is the Republican former director of National Intelligence and Deputy Secretary of State.
0820
A special one-off of the Antiques Roadshow will be broadcast on Sunday, ahead of Holocaust Memorial day later this month. Gabor Lacko is a holocaust survivor.
0830
Theresa May has expressed frustration at the failure of more GP surgeries to offer extended opening hours amid intensifying pressure on NHS hospital services. Dr Chaand Nagpaul is chairman of the British Medical Association's General Practitioners Committee.
0840
Lord Snowdon, the renowned photographer and former husband of Princess Margaret, has died peacefully at his home at the age of 86. Terry O'Neill is an English photographer and friend of Lord Snowdon.
0850
Yesterday Tristram Hunt announced he would be resigning as the Labour MP for Stoke-on-Trent Central to become director of the V&A museum. Anna Turley is a Labour MP. Peter Oborne is a political commentator.
0855
Alan Bennett has this week raised one of his bugbears and therefore surely an issue of national concern - greedy holiday makers at breakfast buffets, people who pile their plates. Rhik Samadder is a writer for the Guardian. William Harrison is an etiquette coach and author.
All subject to change.
So you think you know the Today programme?