Main content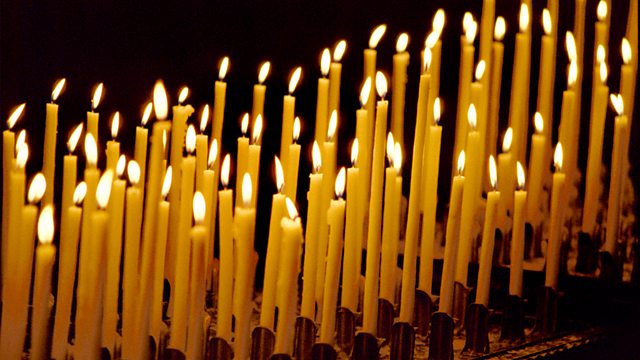 03/01/2017
Spiritual reflection and prayer to start the day with the Rev Duncan MacLaren, Healthcare Chaplain at Ninewells Hospital, Dundee.
Script
Good morning.
Today would have been Tolkien's 125th birthday.  Tolkien may no longer be with us, but the legacy of his fantasy world endures - Bilbo and Gandalf, The Hobbit and The Lord of the Rings.
But recently my attention was caught by a little-known tale of his, entitled 'Leaf by Niggle.'
Niggle is a simple man, a painter. He is working on a major canvas; a great tree set against mountain forests. Niggle endures constant interruption, not least from his wheedling neighbour, Mr Parish. He knows he ought to help Mr Parish, but he feels he must finish his picture.
One day, a mysterious Driver arrives. It's time for Niggle to leave this life, his picture incomplete.
Niggle journeys into a kind of purgatory. There he encounters a tree - his tree, but amazingly, now finished.
Some of the most beautiful leaves turn out to have been a joint effort - part Niggle, part... Mr Parish. Eventually Parish himself turns up, and the two men make their world still more beautiful.
Some have seen this story as a Christian allegory. But Tolkien resisted this view. He is pointing to something more subtle: the Platonic possibility that our creative work is a dim shadow of things eternal and substantial.
There is also a moral point here: Niggle is only able to perfect his work with the help of his most irritating neighbour. What he took to be niggling distractions from his greatest work, turned out to be part of its very fabric.
So Tolkien invites us to reconsider life's niggles. The way we respond to our difficult neighbour may be as much part of our legacy as any great work that we do.
So I pray: lift my eyes from the canvas of self-concern; open my ears to the plea of the needy; bend my heart towards the beauty that lies in eternity. Amen.