Main content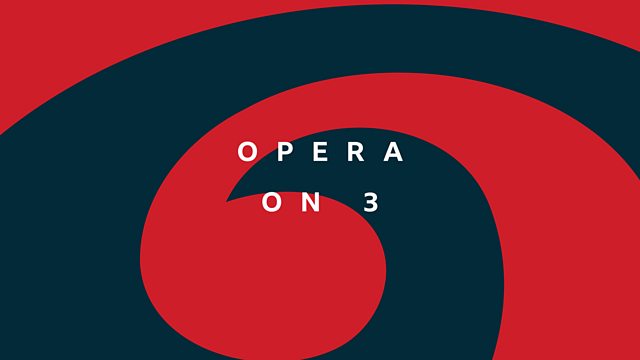 Berg's Lulu
From the Coliseum in London, an English National Opera performance of Alban Berg's dramatic 12-tone opera Lulu. With soprano Brenda Rae and tenor Michael Colvin.
From the English National Opera, Berg's dramatic twelve-tone opera Lulu. Brenda Rae sings Berg's complex heroine who sexually and emotionally dominates every character she comes into contact with. Working her way through three husbands and numerous lovers, including a Painter, a Prince and a Countess, Lulu eventually becomes a prostitute and is murdered by one of her clients, Jack the Ripper. Brenda Rae leads a top cast including Sarah Connolly, James Morris and Nicky Spence, conducted by Mark Wigglesworth.
Lulu ...... Brenda Rae (soprano)
Countess Geschwitz ...... Sarah Connolly (mezzo-soprano)
Painter ...... Michael Colvin (tenor)
Dr Schön / Jack the Ripper ...... James Morris (bass)
Alwa ...... Nicky Spence (tenor)
Schigolch ...... Willard White (bass)
Animal Tamer / Athlete ...... David Soar (bass)
Prince / Manservant ..... Jeffrey Lloyd-Roberts (tenor)
English National Opera Chorus
English National Opera Orchestra
Mark Wigglesworth (conductor).
Last on
Music Played
Alban Berg

Lulu Act I

Singer: Brenda Rae. Orchestra: Orchestra of English National Opera. Conductor: Mark Wigglesworth.

Alban Berg

Lulu Act II

Singer: Brenda Rae. Orchestra: Orchestra of English National Opera. Conductor: Mark Wigglesworth.

Alban Berg

Lulu Act III

Singer: Brenda Rae. Orchestra: Orchestra of English National Opera. Conductor: Mark Wigglesworth.
Berg's Lulu
Prologue
The Animal Tamer introduces the attractions of his menagerie, among them a snake: Lulu, the primeval image of womankind.
Act I
Scene 1 A Painter's studio
Lulu is married to Dr Goll, but is the mistress of Dr Schon, an influential newspaper editor. Schon and his son Alwa, a composer, are watching as she sits for her portrait. They leave and the Painter pursues her. Goll arrives unexpectedly, sees Lulu and the Painter together and dies of a heart attack.
Scene 2 In the Painter's house
The Painter is now happily married to Lulu. A letter announcing the engagement of Schon to a prominent member of society unsettles her. She is visited by Schigolch, an old man, who shares her mysterious past. Schon arrives to tell her that he is determined to proceed with his respectable marriage and overcome his destructive fascination with her. They argue furiously. When the Painter returns and learns that Lulu is Schon's mistress, he commits suicide. As a smokescreen to conceal the scandal of the Painter's suicide, Lulu, Schon and Alwa plan an extra edition of the newspaper.
Scene 3 A theatre dressing-room
Schon has promoted Lulu's stage career in an effort to hook the next unwitting stooge she will marry. She has attracted a Prince. She prepares to dance in Alwa's latest success, but pretends to faint on stage when she sees Schon and his fiancee in the audience. Left alone with Schon, she provokes him to acknowledge that he can never leave her and forces him to write a humiliating letter to his fiancee, breaking off the engagement.
Act II
Scene 1 A room in Dr Schon's house
Schon is now married to Lulu but is tortured by jealousy of her many admirers, including Countess Geschwitz. Leaving the house for a little while, Schon returns to find Alwa declaring his love to his stepmother. In addition, an Athlete, a Schoolboy, Countess Geschwitz and a servant are all drooling over her. Schon produces a revolver and demands that Lulu shoots herself. She discharges the revolver at him and he dies. Lulu is arrested, judged and condemned for Schon's murder, but she is hospitalised when it is thought that she has cholera.
Scene 2 The same room, a year later
Lulu's associates are on the point of effecting her escape. Countess Geschwitz intends to sacrifice herself by swapping places with Lulu in hospital. Schigolch escorts the Countess to the isolation ward. The Athlete plans to have Lulu star in a circus show with him. The Schoolboy arrives with his own scheme to rescue Lulu, but Alwa and the Athlete throw him off the scent by showing him a newspaper report stating that she has cholera.
Disguised as Geschwitz, Lulu returns. The Athlete is taken in by herimpersonation of a cadaverous cholera victim and angrily leaves. Alone with Alwa, Lulu resolves to escape across the border. They make love on the sofa where Schon bled to death.
Act III
Scene 1 Paris
Lulu and Alwa are entertaining guests in their luxurious home. Everyone is thrilled by the sharp rise in the value of Jungfrau railway shares. As a wanted woman, Lulu is blackmailed by the Marquis, who wants to sell her to a brothel in Cairo, and by the Athlete, who wants her remaining cash. The Banker learns that the Jungfrau shares have crashed. Schigolch presses Lulu for some money for his girlfriend. Lulu's answer to her problems is to send the Athlete with Countess Geschwitz to Schigolch, so Schigolch can kill him. The guests are horrified when they learn of the sudden crash of the Jungfrau shares. The company breaks up in recriminations. Before the police arrive to arrest her, Lulu has no difficulty in persuading the Waiter to change clothes with her, and she and Alwa escape.
Scene 2 London, a garret in the East End
Lulu is living in poverty with Alwa and Schigolch. Reduced to casual prostitution, she receives three tricks. Her first client doesn't speak. Countess Geschwitz arrives with a lost portrait of Lulu. Lulu's second client bludgeons Alwa to death. The third client is Jack the Ripper. He butchers Lulu, stabs Geschwitz with the blood-stained knife, and leaves.
Broadcast