Main content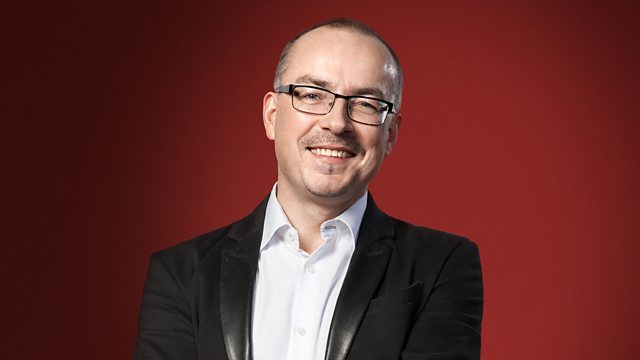 Building a Library: Schubert's Fantasy in C, D934
With Andrew McGregor. Includes Building a Library: Schubert's Fantasy in C for violin and piano, D934; Breaking Free: Recent releases from composers from the Second Viennese School.
with Andrew McGregor
0930
Building a Library
Harriet Smith compares recordings of Schubert's Fantasy in C, D934, for violin and piano. It's a piece which baffled its audience when it was premiered in 1828, because it was much longer and more complexly structured than the conservative Viennese audience was used to. Despite using a recognisable melody of one of Schubert's own songs in its central variation movement, a contemporary review remarked that the piece took rather more time and concentration than "a Viennese is prepared to devote to pleasures of the mind." Great virtuosity is required from both violin and piano, so which duo of performers will come out on top?
1030
Breaking Free - the minds that changed music
Andrew chats to Professor Erik Levi about recent releases of music by composers from the Second Viennese School, including DVDs of Berg's Lulu from the Met and Wozzeck from Opera Zurich, plus chamber music by Norbert von Hannenheim - one of the more brilliant later pupils of Arnold Schoenberg - and the haunting Piano Concerto by Schoenberg himself.
1145
Andrew chooses an outstanding new release as his Disc of the Week.
9am
Mahler (arr. Schoenberg): Songs
MAHLER: Lieder eines fahrenden Gesellen (4 songs, complete); Das Lied von der Erde
Roderick Williams (baritone), Susan Platts (mezzo-soprano), Charles Reid (tenor), Attacca Quartet, Virginia Arts Festival Chamber Players, JoAnn Falletta (conductor)
NAXOS 8573536 (CD)
Sibelius: In the Stream of Life. Seven songs orchestrated by Rautavaara
SIBELIUS: Pohjola's Daughter Op. 49; In the Stream of Life; Koskenlaskijan morsiamet (The Rapids-Rider's Brides) Op. 33; Romance in C major for strings Op. 42; Hymn to Thais (Text: Arthur H. Borgstrom); Demanten pa marssnon Op. 36 No. 6 (Wecksell); Hertig Magnus Op. 57 No. 6; The Oceanides Op. 73; Pa verandan pa vid havet Op. 38 No. 2 (Viktor Runeberg); I natten Op. 38 No. 3; Kom nu hit, Dod Op. 60 No. 1 (Bertel Gripenberg after Shakespeare)
Gerald Finley (bass-baritone), Bergen Philharmonic Orchestra, Edward Gardner (conductor)
CHANDOS CHSA5178 (Hybrid SACD)
LUX
AMPER: Spelpuma; Ljus i morkrets tid (Light in Times of Darkness); Johanna's bike ride; Lux; Elden (The Fire); Trueman; Salen (The Seal); Butterfly bazaar
TRAD arr. Amper: Halling etter Brata Per; Den melancoliska pollonessen; Polska efter Sven Donat; Nackens polska fran gamla tider (The Water Sprite's Polska from Olden Times)
Emilia Amper (nyckelharpa), Emma Ahlberg Ek, Fredrik Gille, Olle Linder, Anders Lofberg, Bridget Marsden
BIS BIS2243 (Hybrid SACD)
WAGNER: The Ring - an orchestral adventure. Arr. Henk de Vlieger
Baltic Sea Philharmonic, Kristjan Jarvi (conductor)
SONY 88985360682 (CD)
9.30am - Building a Library
Composer: Franz Schubert
Piece: Fantasy in C major, D934
Reviewer: Harriet Smith
Building a Library: Schubert's Fantasy in C major, D934
Recommended recording: Isabelle Faust, Alexander Melnikov
Schubert - Duos for piano & violin
SCHUBERT: Fantasie in C major for violin and piano, D934; Grand Duo for Violin and Piano in A Major, D574; Rondo brillant in B minor, D895 (Op. 70)
Isabelle Faust (violin), Alexander Melnikov (piano)
HARMONIA MUNDI HMC901870 (CD)
Other recommended recordings:
Below is a shortlist of other recordings which Harriet Smith also liked, although we can't guarantee the availability of these discs.
Alina Ibragimova (violin), Cedric Tiberghien (piano)
HYPERION CDA67911/2 (2CD)
Adolf Busch (violin), Rudolf Serkin (piano)
APR APR5543 (CD)
10.25am - World Premieres
Concertos of Josef Guretzky
CERNOHORSKY: Fugue in A minor
GURECKY: Cello Concerto in A minor; Cello Concerto in G major; Violin Concerto in D major; Cello Concerto in F major; Cello Concerto in D major
The Harmonious Society of Tickle-Fiddle Gentlemen
CHANDOS CHAN0816 (CD)
MONDONVILLE: Trio Sonatas (6) Op. 2
Ensemble Diderot, Johannes Pramsohler
AUDAX ADX13707 (CD)
BACH, J B: Ouvertures
L'Acheron, Francois Joubert-Caillet
RICERCAR RIC373 (CD)
Telemann - Music for Recorder
HOTTETERRE: Prelude 'Tendrement sans lenteur'
TELEMANN: Overture (Suite) TWV 55:a2 in A minor for recorder (flute), strings & b.c.; Concerto TWV 51:C1 in C major for recorder, strings & b.c.; Sonata for salterio, two chalumeaux & basso continuo, TWV 43:f2; Quartet TWV 43:g3 (Concerto da camera) in G minor for recorder, 2 violins & b.c.
Giovanni Antonini (recorder/director), Il Giardino Armonico
ALPHA ALPHA245 (CD)
10.45am – Erik Levi on new releases of music of the Second Viennese School
Schoenberg: Piano Arrangements
SCHOENBERG: Gethsemane (fragment); Gurrelieder: Part 1; 6 Lieder for soprano and orchestra Op. 8; Klavierstucke (3) Op. 11: No. 2; Kleine Klavierstucke (6) Op. 19; String Quartet No. 2 in F sharp minor Op. 10; 5 orchestral pieces Op. 16; Chamber Symphony No. 2 Op. 38b
Claudia Barainsky (soprano), Konrad Jarnot (baritone), Urs Liska (piano), Andreas
Grau (piano), Gotz Schumacher (piano), Irmela Roelcke (piano)
CAPRICCIO C5277 (2CD)
BERG: Wozzeck
Christian Gerhaher (Wozzeck), Brandon Jovanovich (Drum Major), Mauro Peter (Andres), Wolfgang Ablinger-Sperrhacke (Captain), Lars Woldt (Doctor), Gun-Brit Barkmin (Marie), Chor der Oper Zurich, Philharmonia Zurich, Fabio Luisi (conductor) (conductor), Andreas Homoki (stage director)
ACCENTUS MUSIC ACC20363 (DVD Video) / ACC10363 (Blu-ray) 
BERG: Lulu
Marlis Petersen (Lulu), Susan Graham (Countess Geschwitz), Daniel Brenna (Alwa), Paul Groves (Painter/African Prince), Johan Reuter (Dr Schon/Jack the Ripper), Franz Grundheber (Schigolch), Julian Close (Theatre Manager/Banker), Elizabeth DeShong (Wardrobe-Mistress/Page/Schoolboy), Alan Oke (Prince/Manservant/Marquis), Metropolitan Opera, Lothar Koenigs
NONESUCH 7559794537 (Blu-ray + DVD Video)
Elegy - Schoenberg, Bartok & Krenek
BARTOK: Piano Concerto No. 3, BB 127, Sz. 119
KRENEK: Symphonic Elegy Op. 105
SCHOENBERG: Piano Concerto Op. 42; Accompaniment to a Cinematographic Scene Op. 34
Pina Napolitano (piano), Liepaja Symphony Orchestra, Atvars Lakstigala
ODRADEK RECORDS ODRCD339 (CD)
Hannenheim: Works for Viola & Piano
HANNENHEIM: Stuck No. 1; Stuck No. 3; Stuck No. 4; Duo fur Geige und Bratsche; Suite fur Viola und Klavier; Sonate No. 1 fur Bratsche und Klavier; Sonate No. 2 fur Bratsche und Klavier
Aida-Carmen Soanea (viola), Igor Kamenz (piano), Adrian Pizaru (violin)
CHALLENGE CLASSICS CC72734 (CD)
11.45am – Disc of the Week
MAHLER: Symphony No. 3
Gerhild Romberger (mezzo-soprano), Augsburger Domsingknaben, Frauenchor des Bayerischen Rundfunks, Symphonieorchester des Bayerischen Rundfunks, Bernard Haitink (conductor)
BR KLASSIK 900149 (2CD)