Main content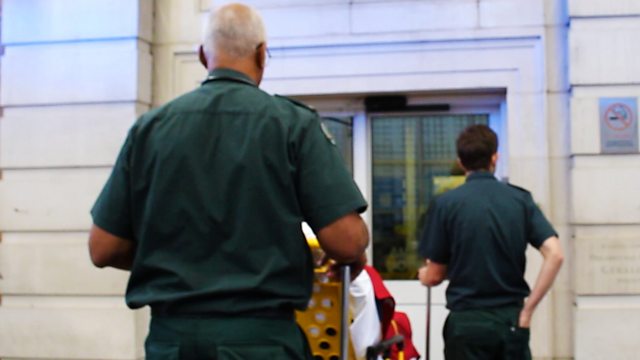 On a Knife Edge
Alongside the medical care for those surviving knife attacks, this programme examines the work going on to help them reduce the risk of being a victim or perpetrator in the future.
This hospital based youth violence work is taking place in the four London major trauma centres and Producer Sue Mitchell was given exclusive access to follow what happens. The charity, Redthread, now has teams in each of the trauma centres and their youth workers will be alongside victims from the point that they walk, or are stretchered, in. They're away from their communities and alienated from peers and this surreal period - 'the teachable moment,' as it's known - is seen as being an effective time because the young person is vulnerable, shocked and forced to confront assumptions of invincibility.
Becky Calnan is a Redthread team leader at one of the London trauma centres and allows listeners to follow her work with nineteen year old Liam. He's been attacked on the street and turns up at Accident and Emergency with blood soaking into his coat and trousers. He tells her that he's been punched, kicked and stamped on as he was making his way to court for a scheduled appointment. She knows him already: just months earlier he was stabbed in his legs in a planned attack. Becky's been working with Liam ever since. His latest injuries don't surprise her: "He doesn't eat properly; he doesn't sleep as he's out at night, and he's paranoid because of how he's living: this all feeds into making these incidents much more likely to happen."
Liam tells listeners about his life of court appearances, street violence and lack of ambition. He traces the start of his problems back to 2010, when he moved to a new area of London with his Mum and sisters. He knows he could make something of himself if he puts his mind to it, but there's too much daily pressure for him to even try: "I don't know what can happen next. There are young youth running around with big knives and my Mum and Nan are scared. I'm not scared. I spat blood on them when they attacked me." But Liam's bravado cracks slightly as he acknowledges the work that Becky's doing: "She's helped me, I do appreciate that. If there are things I need to get off my chest she listens and she doesn't judge me. I don't have anyone else like that to talk to."
For Redthread the work is aimed at interrupting the cycle of violence which all too often sees the victim become the perpetrator. Liam describes being stabbed, jumped on and other attacks with a calm that would be more normally placed describing a shopping trip, say, not repeated street violence. He thinks he will end up dead unless he can change, but it's a hard task. Alongside Liam, Becky is helping others admitted every day. There's George, stabbed as he sat in his car, there are two victims who have yet to regain consciousness and a youngster who appears to have been paralysed in an attack. His long hospital stay provides a good opportunity to both tackle any possible acts of retribution and to begin considering the changes as he adapts to a very different life.
Redthread's hospital programme launched in 2006 and the idea has been in play in America for longer. There is an international network of hospital based intervention programmes and the idea is gaining ground, with Nottingham and Basildon being the latest areas for this approach. In London alone there were more than 1,236 victims of knife crime under the age of 25 in the year ending April 2016 according to the Metropolitan Police. The workers are called as ambulances are en route and will be there from the start, getting alongside the young person and helping them navigate the hospital system. They're trying to build the kind of relationships which many of these young people won't have had in their communities and the organisation also offer gang exit work and mental health support.
Dr Emer Sutherland, consultant clinical lead for the Emergency Department at King's College Hospital, said: "We set up the scheme at King's because we wanted to do more than just patch young people up and send them on their way. Hospitals have a unique opportunity to help try and stop the victim-perpetrator cycle. This is why talking to young people, at this key moment in their lives can help steer them away from the world of gang violence many find themselves in." Once they're in hospital they have a very private space for very private conversations: "Pain in some ways is a great mind opener.
"It's so powerful to the medical team, we can remember before we had Red Thread, we would see some of these young people who come in with trivial injuries and then come back with more severe injuries. We see youth violence as like any other disease, so we might see them on their way to school when they've been mugged or beaten up, then what could happen is they could join a gang to try and make them safe, even though the exact opposite is the case, then we see them going from stabbed in arms or legs to being quite viciously targeted and very vicious attacks - we find those very worrying.
Last on