Main content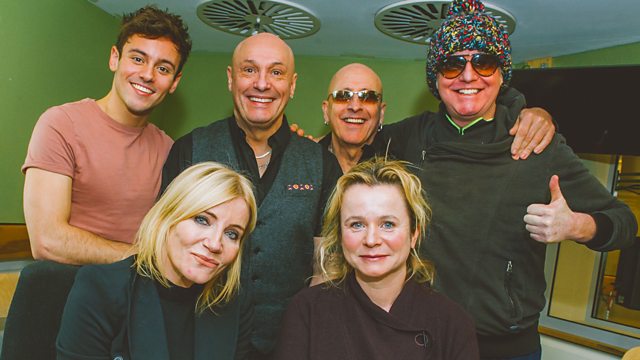 Tom Daley, Michelle Collins, Emily Watson & Right Said Fred
Tom Daley shares tips for staying healthy, Michelle Collins on Thoroughly Modern Millie and Emily Watson talks BBC thriller Apple Tree Yard. Plus Right Said Fred perform live!
Olympian Tom Daley shares his healthy living tips from his new book Tom's Daily Plan and talks about his journey from his first dive to winning two Bronze medals. Michelle Collins pops in before heading out on tour in Thoroughly Modern Millie and making her production debut with A Dark Night In Dalston. Emily Watson reveals the details of her scandalous new BBC One drama Apple Tree Yard. Plus Right Said Fred perform live in the studio.
Last on

Pause For Thought
From writer Abdul-Rehman Malik:
My wife, son and I spent the holidays in Toronto, at my parents' home with my two sisters, brother-in-law and ever-energetic niece and nephew. It was a full house.
Almost all of us got sick within the first day or two, which meant that for at least a week the house resembled a chaotic infirmary.  (Although I think none of us were as poorly as you, Chris…) At any given moment, someone was reaching for tissues, medicine or hot drinks. It's not fun being sick, but there is no better place to fall ill than your mother's house. We sipped herbal teas and slurped soups in front of the blazing fireplace and everyone gave up on making plans.
When we got bored, we ventured down into the basement. That's when the real fun began. My parents' basement is a Tardis-like space and it is our family's ark. Neatly organized into boxes and suitcases of various sizes is over 40 years of our history. Old clothes, books, magazines, kitchen appliances and vinyl records have been preserved.
During this trip I uncovered a box of high school memories. I read through a stack of English literature and history papers. I probably heard Right Said Fred on the Top 40 while writing them. I found my graduating class photograph. I glanced at the faces to find old friends and secret crushes – people and feelings I hadn't thought of in a long time.
Around me the lay the archives of my life, carefully preserved by my mother. She's says she kept all these things because she knows they'll matter to me. As I grow older, I want to know my origin story and understand how those early milestones helped me get to who I am now.
"Journeys," said the 13th century Muslim mystic Rumi, "bring power and love back into you. If you can't go somewhere, move in the passageways of the self. They are like shafts of light, always changing, and you change when you explore them."
As we try out Tom's daily plan for leaner and healthier version of ourselves, I think it's also time for a trip to the basement of our souls. I'd be surprised if we didn't find some long forgotten lesson from our past that'll give us some optimism for the year to come.
Broadcast