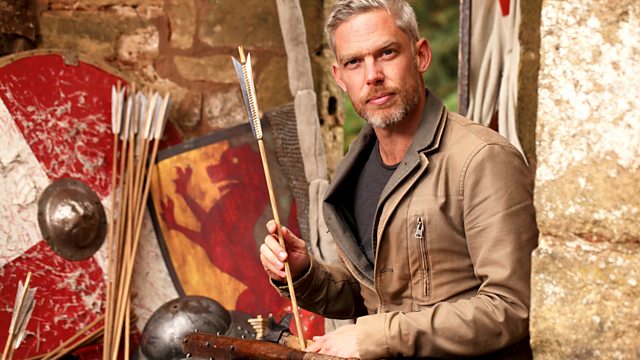 In the first of this three-part series, Dr Sam Willis charts the evolution of weaponry in Britain throughout the Middle Ages.
Beginning with the Battle of Ethandun in 878, when the future of Anglo-Saxon England lay in the balance, Sam examines the weapons and tactics used by King Alfred to keep the Viking raiders at bay, and gets hands-on experience as he joins re-enactors behind a shield-wall, used by the Anglo-Saxons en masse as an attacking weapon to drive back and defeat the Vikings.
Sam travels to France to examine the famous Bayeux Tapestry, with its depiction of the huge arsenal massed by William the Conqueror for his invasion of England in 1066. With the Norman mounted knight came innovations in weapon technology, chiefly stronger and lighter swords, and Sam is given a lesson in swordsmanship using the earliest known combat manual.
Sam also visits the Chateaux de Tancarville in Normandy to tell the story of William Marshal, said to be the greatest knight who ever lived, and how he forged his reputation using a new weapon - the lance - in the extreme sport of its day, the tourney. To get a real sense of the tourney, Sam watches a display of its later incarnation - the joust.
The increasing number of castles and sieges brought with it a new age of projectile missile weaponry, principally the crossbow. Holed up in a castle tower, Sam gets to test-fire different crossbows and discovers why they became outlawed by the pope as instruments of the devil. Visiting the battlefield sites of Halidon Hill in Northumberland and Crecy in northern France, and again getting hands-on with the weapon in question, Sam examines how King Edward III strategically deployed the traditional longbow in vast numbers to devastating effect against the Scots and the French, and as such how it came to be regarded as the chief weapon of the Middle Ages.
Last on
Credits
| Role | Contributor |
| --- | --- |
| Presenter | Sam Willis |
| Producer | Matt Thomas |
| Director | Matt Thomas |
| Executive Producer | John Das |
| Participant | Hector Cole |
| Participant | Jonathan Ferguson |
| Participant | Benedict Green |
| Participant | Rupert Hamerton-Fraser |
| Participant | Robin Knight |
| Participant | Mark Stretton |
| Participant | Matthew Strickland |
| Participant | Robert Tilney |
| Participant | Lisa Traynor |
Featured in...
Dr Sam Willis traces the history of the weapons that have shaped Britain

Looking for something to really get your teeth into? Begin the journey here.