Main content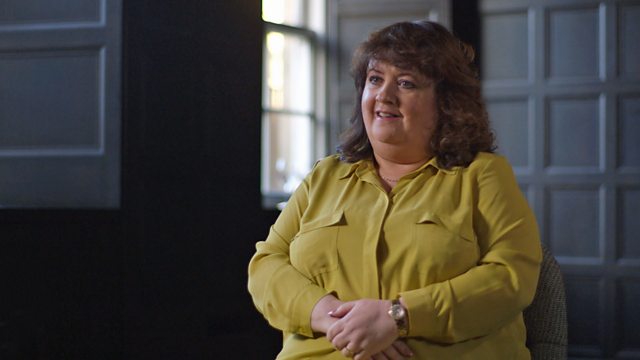 Cò Ach... Cathy Ann?
Sealladh air beatha-obrach Cathy Ann Nic a' Phì. Le Màiri Anna NicUalraig. Mary Ann Kennedy talks to singer and actor Cathy Ann MacPhee about her career and influences.
Tha Cathy Ann Nic a' Phì air a bhith aithnichte dhuinn fad iomadh bliadhna mar sheinneadair, bana-chleasaiche agus bana-Bharrach a tha air leth moiteil à Eilean a h-àrach 's a h-òige. Tha i cliùiteach am measg luchd-èisteachd airson a comasan còmhraidh agus a dòighean ceanalta, maiseach, agus chan eil teagamh nach bi ùidh shònraichte ann an leth-uair na cuideachd 's i a' coimhead air ais air na rudan a thug tlachd dhi thar nam bliadhnaichean.
Bheir "Cò Ach... Cathy Ann" sealladh air beatha-obrach a tha air spèis a chosnadh fad is farsaing. A' cur ris a' chòmhradh aice, bidh tasglann de stuth, bho phrògraman telebhisein gu criomagan dràma bho "Gruth is Uachdar" agus "Màiri Mhòr", anns an do ghabh i pàirt. Ann an cuideachd Cathy Ann bidh Màiri Anna NicUalraig, a' toirt dealbh choileanta dhuinn de shàr-sheinneadair.
Singer, actor and proud native of the Isle of Barra, Cathy Ann MacPhee has been a familiar figure to us all for many years. Her charisma and onstage charm has ensured her a huge fan base but in this relaxed half hour of gentle reminiscing Cathy Ann takes time to share some of her favourite things, singers and career highlights.
A revealing insight to what she holds dear, Cò Ach... Cathy Ann also reveals the width and breadth of her work and proves that she has made her mark on Gaelic culture. Archive footage reveals her work, both on television in films such as, "Gruth is Uachdar" and "Màiri Mhòr". In conversation with Mary Ann Kennedy, the cumulative result gives a rounded picture of a popular, respected and influential performer who has been in our sights for the last four decades.
Credits
| Role | Contributor |
| --- | --- |
| Presenter | Mary Ann Kennedy |
| Interviewed Guest | Cathy-Ann MacPhee |