Main content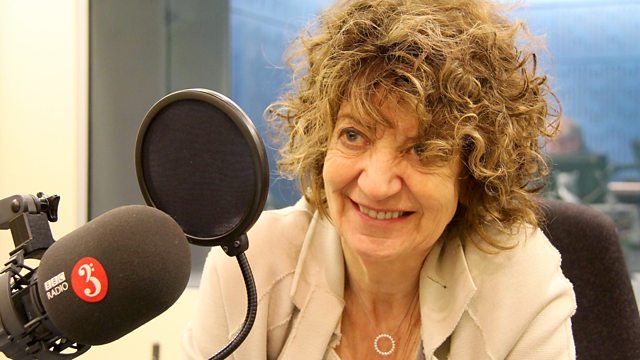 Breaking Free: Friday - Rob Cowan with Susie Orbach
With Rob Cowan. Including Musical challenge; Music in Time: Modern; Breaking Free, featuring the Juilliard String Quartet performing Schoenberg's String Quartet No 4, Op 37.
9am
Rob sets the tone and mood of the day's programme with a range of music to intrigue, surprise and entertain.
9.30am
Take part in our daily musical challenge. Two pieces of music are played together. Can you identify them?
10am
Rob's guest this week is the psychotherapist Susie Orbach who besides specializing in couple and relationship counselling is the author of the book 'Fat is a Feminist Issue' which has been continuously in print since 1978. Susie is also a broadcaster whose series 'In Therapy' on BBC Radio 4 has attracted large audiences and garnered critical acclaim. Susie is Co-founder of The Women's Therapy Centre in London and New York, she lectures widely across the world and continues to practice in London. She talks to Rob about how music fits into her life and chooses works by Handel, Bach, Bernstein and Philip Glass.
10.30am
Music in Time: Breaking Free - the minds that changed music
Rob places music in time, this week looking at five works from the Modern period which reflect the tumultous nature of musical thought and expression in the early years of the 20th century.
The Listening Service Extra: Do the Correct Notes Matter?
10/12 Tom Service looks at Schoenberg's plea to musicians to play the correct notes in his String Trio, and why it matters so much to his serial music.
11am Breaking Free - the minds that changed music
As part of Radio 3's focus on the works of Schoenberg and the 2nd Viennese School, Rob explores the development of Arnold Schoenberg's musical style and language through his String Quartets, from the Dvorak-like early String Quartet in D of 1897 and the Second String Quartet with soprano, which sets the poetry of Stefan George, to the serial masterpieces: the Third Quartet, commissioned by Elizabeth Sprague Coolidge, and the Fourth, written in 1936.
Schoenberg
String Quartet No.4, Op.37 (1936)
Juilliard String Quartet.
Music Played
FEATURED WORK

Susie Orbach's Choice

Rob's choice for Susie Orbach

MUSIC IN TIME: Modern
Musical Challenge: By Association
The two associated composers were Gounod and Bach. The music played was Gounod's meditation on the 1st Prelude of Bach.
Enter the Essential Classics Proms Competition 2019!