Main content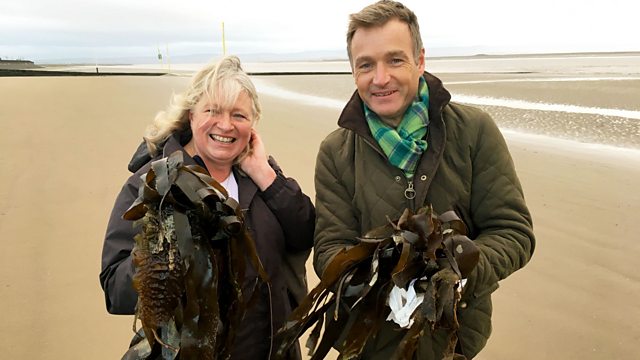 Somerset
Eric Robson is in Somerset with this week's panellists - Chris Beardshaw, Anne Swithinbank and Bunny Guinness.
Eric Robson is in Somerset with this week's panellists - Chris Beardshaw, Anne Swithinbank and Bunny Guinness.
The panel trades theses on a mysterious case of missing slugs, offer up reasons for the continual use of classical nomenclature in horticulture, and lay out the best way to prune a wild wisteria.
Also, Chris and Anne enjoy a trip to the beach in order to discuss the best uses for seaweed in the garden.
Produced by Dan Cocker
Assistant Producer: Hannah Newton
A Somethin' Else production for BBC Radio 4.
Fact Sheet
Q – Where do the slugs in my compost go? And are slugs in compost a good thing?
Bunny – Maybe the compost is so hot it's deterring them?
Anne – I put snails in my compost – I think it's a good thing
Chris – Slugs and snails are attracted to the primary digestion (ie cabbage leaves) but once that matter has gone they're not interested.  It'll only be a problem if they break out into the rest of the garden
Q – Why do we still use Latin names in horticulture?
Chris – A man called Linnaeus is to blame when he encouraged the international code of botanical nomenclature.  Lots of plants have many alternative names depending on where you are in the country or internationally. Latin names we aimed to give them all a common grounding. 
Anne –if you said, "I have a 'Black-Eyed Susan' that won't grow I would have had to ask do you mean Rudbeckia or Thunbergia alata?". Some common names are shared across different plants
Bunny – If it has Officinalis after it it means it's of use as a herb.  Rubrum means red, tomentosa means hairy… all useful stuff
Q – I want to grow cauliflowers – what is the easiest way and best variety?
Anne – Winter cauliflowers are easier
Bunny – I grew Sapporo last year and that was ok
Q – I have wisteria in a border that has flowered – when should I prune it?
Chris – If you've got a good cultivar cut everything back apart from one stem which you want to grow vertically.  Then cut the side shoots when they hit the side of your support.  Do all the pruning in February. The tertiary shoots carry the flowers, cut them back to six buds and go from there.  Second pruning is done in summer in order to keep extra growth under control.
Q – What bulbs should I plant in a coastal garden with free-draining soil?
Anne – Bulbs prefer free-draining soil.  Choose dwarf bulbs that won't be knocked by the wind.  Tulips: Kaufmannianas are low to the ground, you can get dwarf Narcissus too.  Crocuses as well.  Put your summer-flowering tubers in now – things like Nerines and Dahlias. 
Bunny – Camassias are great – the quamash.  Plant them in layers like a lasagne.  Daffodils perhaps.
Chris – Most bulbs should be fine.  Avoid more woodland/moisture-loving ones like Cardiocrinum.  Avoid the larger Camassias but the smaller ones are fine.  Try Lilies – the Tree Lily will go up to about 6ft (1.8m) in height.
Q – When we exit Europe will we see an increase in pesticides and herbicides?
Chris – I think it will stay about the same. You might see a relaxation on advice on how to use products.
Bunny – There was a lot of good reasoning behind a lot of the legislation so I can't see it changing
Q – Is there anything I can do about hundreds of mining bees in my beds and borders?
Anne – Put more herbaceous perennials in and some grasses so it's nice and dense.  Things like Veronicastrums
Bunny – I thought they came annually and then moved on