Main content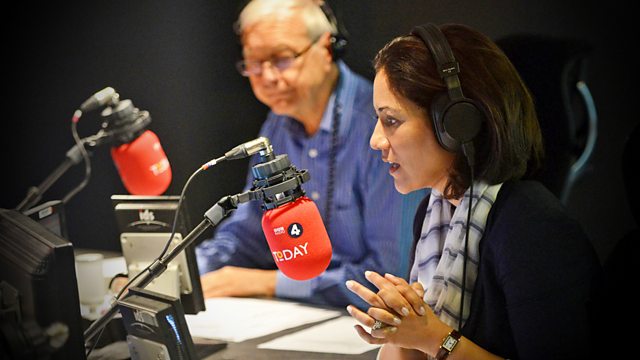 06/01/2017
Morning news and current affairs. Including Sports Desk, Weather and Thought for the Day.
Today's running order
0650
An analysis of four weeks' worth of data from hospital trusts in England has revealed a third of them are at the second to highest level of pressure on the system and needing to take urgent action to cope. The analysis was carried out by the independent health charity the Nuffield Trust. Nigel Edwards is its chief executive.
0655
A notorious egg thief is on the run again after the authorities in Brazil admitted that they had lost him. Bob Elliot is head of investigations for the RSPB, a UK charity working to secure a healthy environment for birds and all wildlife.
0710
The Bank of England has partially acknowledged its forecasts for the economy after Brexit were wrong. Kamal Ahmed is the BBC's economics editor and Dr Graham Gudgin is from the Centre for Business Research at the University of Cambridge.
0715
The quality of forensic science work in England and Wales is at "significant risk" because of funding problems and changes in the way services are provided, according to the Forensic Science Regulator. Dr Gillian Tully is the Forensic Science Regulator.
0720
The dollar has been facing some turbulence ahead of today's highly anticipated US non-farm payrolls report. Jake Robbins is head of global equities at Premier Asset Management.
0730
Two African countries, Gambia and the Democratic Republic of Congo, are going through political crises as their longstanding rulers refuse to stand down. Mary Harper is the BBC's Africa editor and Dr Mo Ibrahim is Chair of the Mo Ibrahim Foundation.
0740
Nigel Farage the former UKIP leader is to host a daily radio show. He will present a nightly phone-in programme on the London commercial station LBC. The BBC's media editor Amol Rajan reports.
0750
The NHS is using a new system this winter to record the pressure on hospital trusts. Dr Taj Hassan is president of the Royal College of Emergency medicine and Joe Harrison is chief executive of Milton Keynes Hospital.
0810
America's top intelligence official said Thursday that Russia undoubtedly interfered in America's 2016 presidential election. Rob Knake is the Whitney Shepardson senior fellow at the Council on Foreign Relations.
0820
Much of the stone circle of Stone Henge has been lost over the years but Dr Rupert Till has used technology developed for games and virtual reality to take users back to experience what he thinks was a key part of its meaning for people,  its sound. The BBC's David Sillito reports.
0830
Strikes by train drivers at Southern Rail are expected to go ahead next week, despite the Office of Rail and Road (ORR) reiterating its view that driver operated doors on trains are safe. Chris Grayling is Secretary of State for transport.
0840
The political crisis in Northern Ireland is deepening. Sammy Wilson is a DUP MP and former finance minister. BBC's Ireland correspondent, Chris Page, reports.
0850
The Bank of England has partially acknowledged its forecasts for the economy after Brexit were wrong. Gerard Lyons is a British economist and writer.
All subject to change.