Main content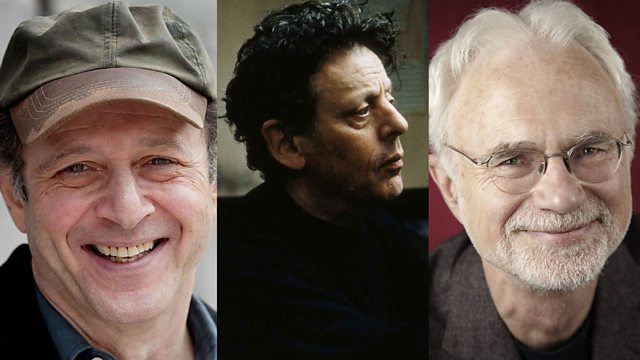 US Composers: Steve Reich, Philip Glass and John Adams
As Philip Glass and Steve Reich reach 80, and John Adams 70, the three foremost living American composers talk to John Wilson about their work.
Philip Glass, Steve Reich and John Adams are America's greatest living composers. Between them, they have helped change the way music is made and heard, repeating rhythms, highlighting melodies and overlapping time signatures to create new musical languages that are widely heard in the looped and sampled soundtrack to the 21st century. As they reach milestone birthdays, they talk to John Wilson about their work, and about the musical movement that links the three of them - Minimalism.
Playlist:
Philip Glass - Closing
Steve Reich - Clapping
John Adams - Phrygian Gates
Bartok - Concerto For Two Pianos, Percussion and Orchestra, 3rd movt
Stravinsky - Rite of Spring
Bach Brandenburg 5
Charlie Parker - Be Bop
Tchaikovsky's - 1812 Overture
Bozo the Clown
Philip Glass - Dance 8
Steve Reich - Livelihood
John Adams - On the Transmigration of Souls
Steve Reich - Different Trains
Philip Glass - Floe
Philip Glass - Facades
Steve Reich - Clapping
Steve Reich - Piano Phase
Steve Reich - Drumming
Steve Reich - Clapping
John Adams - Grand Pianola Music
Philip Glass - Knee Play 1 from Einstein on the Beach
Philip Glass - Evening Song from Satyagraha
John Adams - The People Are The Heroes Now from Nixon in China
Steve Reich - The Cave
John Adams - Hallelujah Junction
Philip Glass - The Hours
Steve Reich - Music for 18 Musicians
Producer: Rebecca Armstrong.
Playlist
Philip Glass – Closing 
Steve Reich – Clapping 
John Adams – Phrygian Gates 
Bartok – Concerto For Two Pianos, Percussion and Orchestra, 3rd movement 
Stravinsky – Rite of Spring 
Bach - Brandenburg 5 
Charlie Parker – Be Bop 
Tchaikovsky - 1812 Overture
Bozo the Clown Circus March
Philip Glass - Dance 8 
Steve Reich – Livelihood 
John Adams – On the Transmigration of Souls 
Steve Reich – Different Trains
Philip Gass – Floe 
Philip Glass – Facades 
Steve Reich – Clapping 
Steve Reich – Piano Phase 
Steve Reich – Drumming
Steve Reich – Clapping
John Adams – Grand Pianola Music
Philip Glass – Einstein on the Beach 
Philip Glass – Evening Song from Satyagraha
John Adams – Nixon in China 
Steve Reich – The Cave 
John Adams – Hallelujah Junction 
Philip Glass – The Hours 
Steve Reich – Music for 18 Musicians