Main content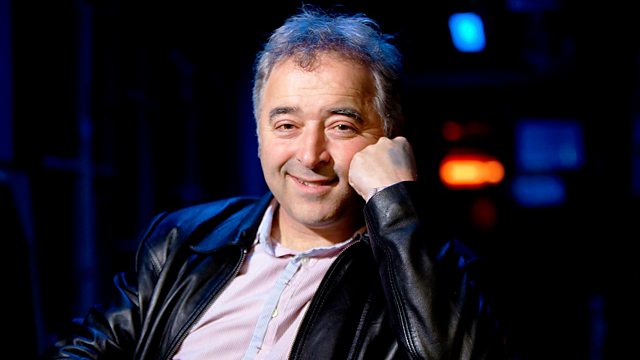 In My Room
Author and screenwriter Frank Cottrell Boyce goes back to his boyhood bedroom in Liverpool and reflects on his childhood memories, the meaning of home and the journey to get there.
"Memory is sticky" says author and screenwriter Dr. Frank Cottrell Boyce in his reminiscences of his childhood. "I worry about what will happen in the future when our reading and our music comes digital and non-stick."
In a whimsical and intensely personal reflection, Cottrell Boyce indulges in the music, poetry and prose that made and makes him tick. He does all this sat in his boyhood bedroom, in the house where his parents still live, and where he visits each week to look after them.
He remembers moving out of Liverpool city centre - destroyed by the Blitz - to a new housing estate where his hopes and dreams were forged and where, inspired by the moon landings, he became certain that one day he and his brother would be camping there.
There is much in this programme about the meaning of "home" and the journey to get there, and he pays tribute to his mum and dad for creating a home out of the bricks and mortar in to which they moved. "They created rhythms and rituals that seemed as unalterable and ancient as weather ... the walk to school, the Friday night chippy supper, Saturday Grandstand, Sunday mass and of course that great litany - with its contradictory mixture of reassuring rhythm and emotional unpredictability ... the football scores as read by Len Martin".
The programme features the music of David Bowie, Benjamin Britten, Paul Simon and the Magnetic North, with poetry from Les Murray, RS Thomas and Seamus Heaney. Cottrell Boyce wonders about the nature of memory and where home really is, concluding with St Augustine, that God has made us for himself "and our hearts are restless until they find their rest in Thee."
Presenter: Frank Cottrell Boyce
Producer: Michael Wakelin
A TBI Media production for BBC Radio 4.
Readings
Title: The Sleepout
Author: Les Murray
Publisher: Carcanet Press
Title: Anne of Green Gables
Author: L.M. Montgomery
Publisher: Oxford University
Title: Mercian Hymn
Author: Geoffrey Hill
Publisher: Andre Deutsch
Title: The Cure at Troy
Author: Seamus Heaney
Publisher:  Farrar, Straus and Giroux
Title: Carrying the Fire: An Astronaut's Journey
Author: Michael Collins
Publisher: Cooper Square Press
Title: Ithaka
Author: C.P. Cavafy (trans. Edmund Keeley)
Publisher: Princeton University Press
Title: Mere Christianity
Author: C.S. Lewis
Publisher: William Collins
Title: The Bright Field
Author: R.S. Thomas
Publisher: Macmillan