Main content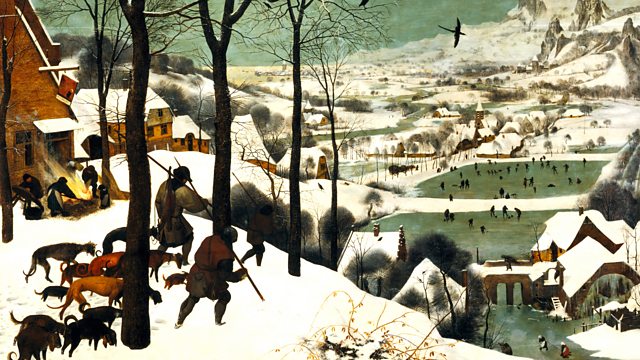 Following a move to the French Alps, author Marcus Sedwick continues his meditation on snow. In this episode, he looks at how snow has inspired artists, musicians and film-makers.
Of all weathers, snow is the one that has always affected the author Marcus Sedgwick the most. Five years ago, he and his partner bought a mountain house, an old chalet d'alpage high in the Haute Savoie (an alpine department of the eastern France bordering both Switzerland and Italy).
The book explores the art, literature and science of snow, as well as Marcus Sedgwick's own experiences and memories, asking whether it really did snow more during his boyhood in Kent and whether changing climate patterns might mean snow becomes a thing of the past for many of us.
Marcus Sedgwick muses on why snow is so powerful to our imagination and so transformative. Today he explores how snow has inspired artists, musicians and filmmakers looking at the vividly 'cold' paintings of Bruegel, Schubert's beautiful but bleak Winterreise, and Werner Herzog's Of Walking in Ice created as he walked from Munich to Paris in late November to visit the dying Lottie Eisner.
Marcus Sedgwick is best known as a children's author. He is the winner of many prizes, most notably the Michael L. Printz Award 2014, for his novel Midwinterblood. Marcus has also received two Printz Honors, for Revolver in 2011 and The Ghosts of Heaven in 2016. Other notable awards include Floodland, Marcus' first novel, which won the Branford-Boase Award in 2001, a prize for the best debut novel for children.
His books have been shortlisted for over forty other awards, including the Carnegie Medal (six times), the Edgar Allan Poe Award (twice) and the Guardian Children's Fiction Prize (four times). He has twice been nominated for the Astrid Lindgren Memorial Award, in 2016 and 2017
The reader is Jonathan Firth, the abridger is Katrin Williams and the producer is Julian Wilkinson.
Credits
| Role | Contributor |
| --- | --- |
| Author | Marcus Sedgwick |
| Reader | Jonathan Firth |
| Abridger | Katrin Williams |
| Producer | Julian Wilkinson |