Main content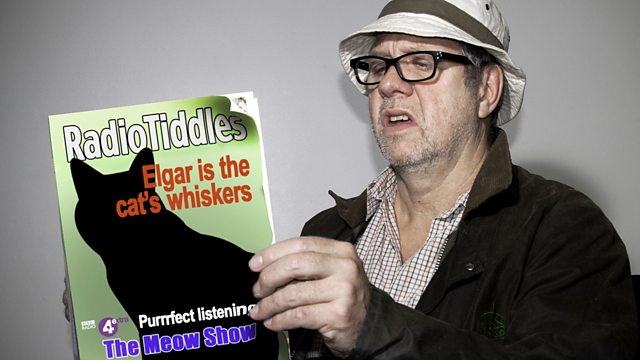 The Meow Show, with Ed Reardon and Elgar
The 12-year-olds at Radio 4 Extra insist that Ed Reardon's feline companion Elgar joins him to co-present a selection of programmes about cats from the BBC radio archives.
The 12-year-olds at Radio 4 Extra thought it would be a wheeze to hire Ed Reardon for a three-hour showcase of programmes about cats from the BBC radio archives, on the condition that his feline companion Elgar joins him as co-presenter.
And so radio's favourite curmudgeon bundles Elgar into his basket and hops on the train from Berkhamsted to Broadcasting House. Between complaints about the paucity of hospitality (apart from a luxury pouch for puss), Ed and Elgar paw through the cat back catalogue to discover some kitty treats:
* In Spoken Cat, Sian Phillips meets the people learning cat language so that they can communicate with their moggies.
* Dawn French reads The Cat Lover, by Lynne Truss.
* Beryl Reid reveals how the Post Office put pussycats on the payroll in A Shilling a Week and All the Mice You Can Eat.
* In City Cat, Fergus Keeling finds out how Felis Domesticus copes with the urban rat race.
* Dylan Winter hears about a whiskered winner of the PDSA Dickin Medal, a cat called Simon who kept up morale during the 100 day Yangtze Incident, in The Animals VC: The Cat Among the Pigeons.
* A vintage edition of Ed Reardon's Week finds Elgar going AWOL.
* And a moving story set on Christmas Eve, The Mousehole Cat, finds an old moggy helping his human to feed a starving Cornish village.
Along the way Ed dangles snippets of poetry and a serenade from Si Si the famous singing cat.
The disgruntled fare-dodger also tries to get tips on publishing success from Tom Cox, the author of four books about his cats and the owner of several feline social media sensations. And the cat-loving comedian Susan Calman has a clandestine consultation with Elgar.
Presented by Christopher Douglas.
Written by Christopher Douglas and Andrew Nickolds
Produced by Moy McGowan.
Kit Katdashian talks us through her favourite cat videos. Thanks humans.

JP Devlin finds out how to train cats with Sarah Ellis, a Feline Behaviour Specialist.