Main content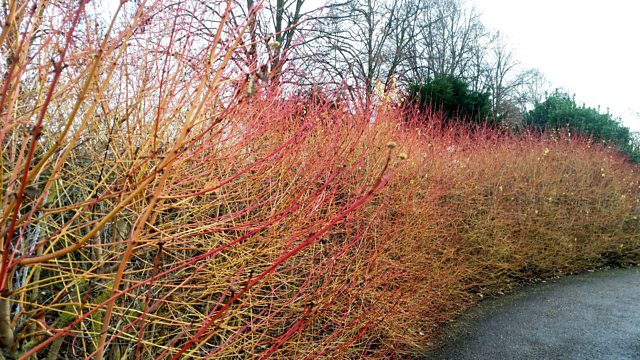 Berkshire
Eric Robson and the panel are in Berkshire. Anne Swithinbank, Matthew Wilson and James Wong answer this week's horticultural questions.
Eric Robson and the panel are in Berkshire. Anne Swithinbank, Matthew Wilson and James Wong answer this week's horticultural questions.
The panel debates the benefits of marinating seeds in cinnamon and aspirin, offer advice on how to grow bigger celeriac, and suggest a plethora of plants fit for planting beneath an ornamental pear tree.
Also, Matt Biggs enjoys a sensory winter walk at Anglesey Abbey.
Produced by Dan Cocker
Assistant Producer: Laurence Bassett
A Somethin' Else production for BBC Radio 4.
Fact Sheet
Q – Would the panel consider a teaspoon of cinnamon and soluble aspirin to one litre of lukewarm water to marinate seeds/cuttings before planting?
James – I would only do it if I thought a seed needed an extra artificial boost. It's not an all-purpose thing. I would use on things like Apiaceae (carrots, parsnips, parsley) which are tricky to germinate.
Anne – Try it on things that haven't worked before – won't do any harm.  For parsley, sow it now and you should get better results than in spring.
Q – We are responsible for a privet hedge. It's partially covered by ivy.  If I pull the ivy out, will the privet recover?
Matthew – Often if ivy is this well settled it is best to leave it due to its excellent benefits to nature – more so than privet.  I would leave it.
Anne – Leave it
James – Leave it
Q – How do you grow large celeriac?
Anne – The cold spring didn't help this year.  They need lots of water and to be well-spaced (18inches/45cm) in sandy soil.  I would liquid feed every two weeks.
Q – Can the panel suggest low-growing plants for summer/autumn to grow under an ornamental pear tree?  Snowdrops are already there in spring
Anne – Bulbs will grow there.  Triteleia (used to be called Brodiaea) – there's one called 'Queen Fabiola' that flowers in June/July.  Black-leaved Ophiopogon looks good with snowdrops, so too the silver-leaved Convolvulus
Matthew – I'd recommend shrubby Cistus.  Cistus landanifer or 'Peggy Sammon's would be great.  Santolina (the 'Cotton Lavender').  Grasses like Poa labilliadieri and Nassella trichotoma.  And definitely Bearded Irises like 'Kent Pride', 'Jane Phillips' and Iris pallida
Q – How do I encourage wildflowers to grow in rough grass?
Matthew – You're not going to get poppies or cornflowers – they are cornfield weeds, not wildflowers.  If you're not turning the land you'll get meadow flowers like ox eye daisy.  You could buy plug plants from wildflower nurseries online.  You must try sowing Yellow Rattle in autumn. 
Q – I've lost a Field Maple and a Wild Cherry to disease in the last two years.  Now an adjacent Larch has died.  What is the problem and what can I do?
Eric – With the Larch it could Phytophthora ramorum
Matthew – More likely to be Honeyfungus.  Get a tree surgeon to get the tree stumps out and away.  Then if you want to replant there are a couple of trees that have high resistance: 'Black Walnut' and the Sorbus aria
Q – We have a Yew hedge that's changed colour.  Is it dead or is there hope for it?
Eric – It's dead!
Matthew – Yew grows in the wild in places with good drainage so you need that
Anne – I think you could rescue by thinning out and mulching over the roots
Q – We planning a forest garden and Edible Bamboo has been suggested as a feature. Do you have any tips and is it good to eat?
James – Phyllostachys dulcis is the best.  Also Phyllostachys aurea – common golden bamboo. Phyllostachys nigra, the black bamboo is nice too.