Main content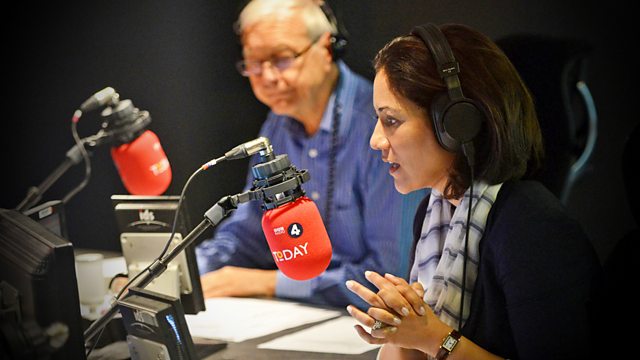 30/12/2016
Morning news and current affairs. Including Sports Desk, Weather and Thought for the Day.
Today's running order
0650
Learner drivers are to be allowed on motorways for the first time, under new Government plans to improve driver and motorcyclist training.  Tim Shallcross is Head of Technical Policy at road safety charity "IAM RoadSmart". 
0655
Our guest editor, Dame Sally Davies, has the job of telling us all how much is safe to drink. This year she revised the guidelines down. Dame Sally is Chief Medical officer for England and Jancis Robinson is a wine writer and co-author of Wine Grapes.
0710
President Obama has expelled 35 Russian diplomats. Jon Sopel is our North America Editor.
0715
A nationwide ceasefire came into force in Syria last night between the government and rebel factions. Nick Finney is North West Syria Director for Save the Children.
0720
Our Guest Editor, Dame Sally Davies, has a secret passion for astronomy. One of the first things she wanted to do was to use her editorship to wangle a guided tour of the Jodrell Bank Discovery Centre near Manchester. Dr Anna Bonaldi showed her around.
0730
The 100,000 Genomes Project is mapping the genomes of tens of thousands of patients with rare diseases and their relatives. It's hoped that patients will one day be offered a diagnosis where there wasn't one before. Vivian Parry is Head of Engagement at Genomics England.
0740
The author of Chocolat, Joanne Harris, is well known for infusing her novels with rich depictions of food and flavours. Lisa Markwell is the former editor of the Independent on Sunday who is now training to become a chef, she brought our guest editor Dame Sally together with Joanne Harris.
0750
Fighting is said to have stopped in much of Syria after a nationwide ceasefire came into force last night between the government and rebel factions. Yasin Atkay is a spokesperson for the AK Party in Turkey and Lyse Doucet is our Chief International Correspondent.
0810
Antibiotic resistance has been growing rapidly and India is believed to be one of the main drivers of this growing problem. Justin Rowlatt is our South Asia correspondent and our guest editor, Dame Sally Davies, spoke to the founder of Microsoft and noted philanthropist Bill Gates.
0820
Hillsborough campaigner Professor Phil Scraton has turned down an OBE in the Queen's New Year Honours list, in protest "at those who remained unresponsive" to helping families and survivors affected by the disaster. Professor Scraton joins us live.
0830
The US is to expel 35 Russian diplomats, whilst sanctions have been announced against nine entities and individuals including two Russian intelligence agencies. Michael McFaul is the former American Ambassador to Russia and Gordon Corera is our Security Correspondent.
0840
On Tuesday we heard from two well-known people who've seen those close to them succumb to dementia - Michael Parkinson told us about his mother and Michael Palin about his fellow Python Terry Jones. Louise Page is a playwright and wife of a dementia sufferer.
0850
Musical prodigy Alma Deutscher, who despite being aged just 11 is already world renowned as a violinist and composer, joins us to discuss the final preparations for her first full length opera.
0855
We speak to guest editor Dame Sally Davies about the programme.
All subject to change.