Main content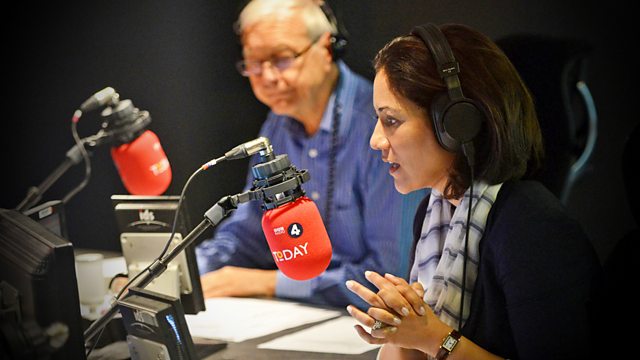 29/12/2016
Morning news and current affairs. Including Sports Desk, Weather and Thought for the Day.
Today's running order
0650 
London 2012 was the first Olympic Games where women boxers were allowed to compete. Jane Couch was the UK's first licensed female boxer in 1997. 
0655
The oldest known census of St Kilda's has been discovered, giving a glimpse of life in the 18th century on the remote island. Dr Alison Rosie is the Registrar of the National Register of Archives for Scotland.
0710 
The Hollywood actress Debbie Reynolds has died just one day after the death of her daughter, the film star Carrie Fisher. Jeanne Wolf is a Hollywood reporter who knew them both.
0715 
British Cycling has not been able to provide documentary proof to a Parliamentary committee that the package containing medicine administered to Sir Bradley Wiggins before the 2011 Tour De France contained only a legal decongestant. Damian Collins is Chair of the Culture, Media and Sport Select Committee.
0720
More and more fitness enthusiasts are posting pictures and videos of their workouts and 'clean eating' meals to promote a healthy lifestyle. But what pressure is that putting on women who follow these kinds of accounts? Our reporter Zoe Conway spoke to the Victoria's Secret model and boxing enthusiast Kelly Gale.
0730
Patients could be forced to wait weeks to see their family doctor as overstretched medics struggle to keep waiting times down during the busy winter period. Helen Stokes-Lampard is Chairwoman of the Royal College of GPs.
0740 
Mixed martial arts is attracting hundreds of millions of TV viewers worldwide. Among the celebrity backers is the TV chef Gordon Ramsay. Our Ireland correspondent Chris Page went along to a major event in Belfast. 
0750
The US Secretary of State, John Kerry, has said the prospect of an Israeli-Palestinian peace deal is in grave jeopardy. Lord Levy is Tony Blair's former Middle East envoy.
0810
One famous boxer who has faced battles inside and outside the ring is the former world champion Ricky Hatton. Garry Richardson went to meet him at his boxing gym outside of Manchester. 
0820 
Hollywood star Debbie Reynolds has died at the age of 84, just a day after that of her daughter Carrie Fisher.
0835
Sir Bradley Wiggins has announced his retirement from cycling. Bob Howden is the President British Cycling. 
0840
This year over 2000 victims of modern day slavery got support from the Salvation Army. Our reporter Samantha Haque spoke to 'Anna', who was held captive and abused for 13 years. She has now written a memoir of her experience. 
0845
Fight for Peace is a charity set up to help young people realise their potential through boxing and martial arts. One of its ambassadors is our guest editor, Nicola Adams. She showed our chief correspondent Matthew Price around the charity's gym in Newham.
0850
We speak to guest editor Nicola Adams about the programme.
All subject to change.