Main content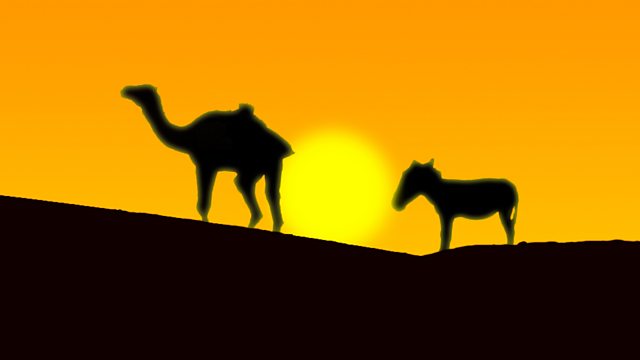 Letters between Sandy, a camel carrying a wise man, and Martha, a donkey carrying a pregnant lady. Sandy offers Martha tactless advice about how to get comfortable in the desert.
The recently-discovered correspondence between Sandy, an upbeat but ever so slightly dim camel carrying a king and some myrrh through the desert, and Martha, a thoughtful but rather sarcastic donkey taking a heavily pregnant lady to Bethlehem.
In this episode Sandy offers Martha some tactless advice about how to get comfortable in the desert by closing her nostrils, unaware that that only works for camels, and Martha worries about going back to Bethlehem because her mother is bound to wonder why she is still single. Meanwhile we learn that Sandy's rider is becoming concerned that myrrh might not be a very good gift for a baby, and Joseph is not dealing well with the pressure of being a father to be. Plus the roads are absolutely packed over-excited sheep who seem to have got hold of the wrong end of the stick about what species the Lamb of God is going to be.
Written by Robert Hudson and Marie Phillips, authors of Radio 4's previous epistolary animal comedy Warhorses of Letters.
Starring Tamsin Greig as Martha
Joel Fry as Sandy
Introduced by Stephen Fry
Produced by Gareth Edwards
A BBC Studios Production.
More episodes
Previous
You are at the first episode