Main content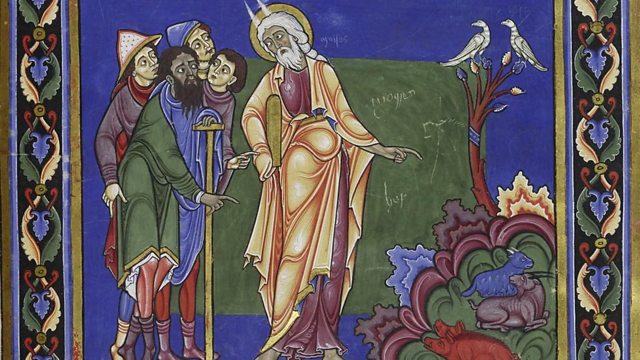 Maps, Music and Medieval Manuscripts
Cultural discussion show. Andrew Marr looks at medieval manuscripts at the Parker Library, Cambridge, with Christopher de Hamel, Lucie Skeaping and Edward Brooke-Hitching.
Andrew Marr visits the Parker Library at Corpus Christi College in Cambridge to meet the oldest non-archaeological artefact in England, which is the oldest surviving illustrated Latin Gospel in the world - the sixth century Gospel of Saint Augustine.
The Librarian Christopher de Hamel tells the stories of rare and beautiful manuscripts which have crisscrossed Europe for hundreds of years at the whim of power politics, religion and social change, but even now have secrets that are yet to be discovered.
The musician and broadcaster Lucie Skeaping has also turned detective in her study of the Elizabethan jig - a popular and bawdy play set to music - where only fragments of parchment and clues to the tunes remain.
Edward Brooke-Hitching uncovers the myths, lies and blunders which have plagued the cartographers of old, with his book of early maps. Mythical sea monsters, fabled mountain ranges, even phantom islands have all been written into the atlas of the world.
Producer Katy Hickman.
Christopher de Hamel
Christopher de Hamel is Fellow and Librarian of Corpus Christi College, Cambridge.
Meetings With Remarkable Manuscripts is published by Allen Lane.
Lucie Skeaping
Lucie Skeaping is a musician, singer, broadcaster and writer.
Singing Simpkin and Other Bawdy Jigs, co-written with Roger Clegg, is published by University of Exeter Press.
Edward Brooke-Hitching
Edward Brooke-Hitching is an author and documentary director.
The Phantom Atlas: The Greatest Myths, Lies and Blunders on Maps is published by Simon & Schuster.
Credits
| Role | Contributor |
| --- | --- |
| Presenter | Andrew Marr |
| Interviewed Guest | Christopher de Hamel |
| Interviewed Guest | Lucie Skeaping |
| Interviewed Guest | Edward Brooke-Hitching |
| Producer | Katy Hickman |