Main content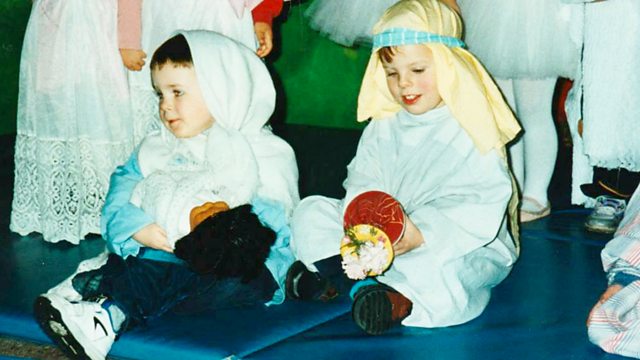 Christmas Meditation
Having turned 24 this year, poet and spoken word artist Harry Baker looks back on his own advent calendar of Christmases so far.
From Uncles dressed as Santa Claus to peanuts for presents, whether it's spent in church, with the family or the A&E department. Having turned 24 this year, poet and spoken word artist Harry Baker looks back on his own advent calendar of Christmases so far.
World Poetry Slam Champion Harry Baker published his debut anthology The Sunshine Kid in December 2014. His show of the same name was voted 'Best Spoken Word Show' of the Edinburgh Fringe Festival in 2015. Baker is now a fully-fledged maths graduate and full-time poet/adventurer. His work has been translated into 15 different languages, in addition to being shared and viewed millions of times worldwide on TED.com. In 2016, he took a three-month #Haztralasia tour through New Zealand, Australia, Dubai, China and Thailand, and is excited to be sharing his unique mix of humour, heart and hopefulness.
Producer Carmel Lonergan.
Script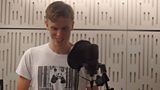 Christmas Through the ages.
As I turned 24 this year, I wanted to look back on my own advent calendar of Christmases so far.
1 - It is not realising it and yet being the centre of attention.
2 - It is being more excited about the wrapping paper than the presents
It is a box. It is a rocket. It is a fort. It is the thought that counts.
3 - It's just about grasping the concept of December
4 - It is loving it at the time but still being too young to remember
5 – FX Music Kings College Choir Cambridge – Away in a manger
It is the school nativity.  Where you,  don't have to be the star to be the star of the show.
Where a tea towel on your head and a dressing gown combo is what defines you as wise.
6 - It is writing Christmas cards for everybody in the class,
Because they sell them in packs of thirty and why wouldn't you want to be friends with everyone.
Being too young for classroom politics.
Being too young for worrying
about how many kisses is too many kisses.
A Simple 'Happy Christmas' printed in the middle.
Their name at the top, yours at the bottom, and you can blitz them in a night.
7 - It's Uncle Steve dressing up as Father Christmas.
It is Toby's Mum ringing up your Mum upset because you told him about Father Christmas.
It's James Mclynn telling you 10 years later that you told him about Father Christmas.
It's finding it hard to believe you found it hard to believe when it came to Father Christmas.
It's wanting to put the record straight today for all the younger listeners;
The truth about father Christmas - is that sometimes he gets my Uncle Steve to help out when things get really busy..
8 - It a joint Christmas AND birthday present for you AND your brother.
That is Four presents' worth of present in one in the form of a PlayStation 2.
Applying this similar concept of sharing to your daily half an hour time limit:
The first half an hour is Joel's half an hour - I'm just helping out.
The second half an hour is my half an hour - but I can't do it without him.
The third half an hour is We're just looking for a save point Mum!
Two times your current lifetime away you will ask Joel about presents growing up
and this will still be the one that you both remember.
( FX Music The Jackson 5 -Santa Claus is coming to Town)
9 - It's discussing when you're allowed to get up, instead of when you have to sleep.
Can we come in at 6? How about 7? Settling somewhere between the two.
Arriving at 6:01, stockings in arms, at the end of Mum and Dad's bed,
It's a bit of a squeeze now - you are both bigger than you used to be.
Taking it in turns with Joel to go through the classics:
Selection box.
Chocolate Orange.
Chocolate gold coins.
Pants and Socks
Shower gel.
Satsuma.
Even when you are told you are too old for Santa to keep bringing you presents,
You will do stockings for each other, and make sure all the above are still included.
10 - It's wearing shorts every single day of the year while you still can, because when you start secondary school you will be forced to wear long trousers against your will.
It is Friday afternoon. Rolling a giant snowball the entire 30 minute journey home,
Kneecaps glowing so red Rudolph himself would be jealous.
11 - It is Year 7 taking snowball fights to a whole new level.
Two pairs of gloves - one for warmth, one for craftsmanship.
Ringing up school to check in advance if it's been cancelled for a snow day.
Hearing that Drayton Manor School pipes have frozen - maybe ours will be the same.
It's organising a meet up in the morning on Ealing common either way.
Arriving sodden into period 3 French - pardon - sorry I'm late miss.
There was traffic because of the snow, which is technically true -
It's her saying that she taught your brother and therefore she knows you walk to school.
It's somehow still not getting into trouble because Snow Rules.
12 - It's deciding to go to the Cinema as a family on Christmas Eve.
Not knowing this will become a tradition you stick to more closely than any mince pies or mistletoe.
That you will go through that Napoleon Dynamite phase for slightly too long.
That you will cry your eyes out watching where the wild things are,
Because you too just want to make everyone o kay.
Your brother will laugh at you in the kindest possible way,
That somehow only brothers can.
13 (FX Music Destiny's Child - White Christmas)
It's Beth saying she respects your music taste but it is seriously lacking in Christmas songs.
Making you a compilation of all the classics, including Mariah Carey, Destiny's Child and the Tweenies. Informing you that S Club 7's 'Never had a dream come true' IS still a Christmas song because it came during November and it was snowing in the video.
14 - It's having to get to church early.
Mum's been asked to do the Christmas morning Sermon, to go out live on the BBC.
5 minutes before broadcast, You're asked if you and Joel wouldn't mind moving from the front row.
His current attempt at an Afro is blocking the people behind and your new Napoleon Dynamite 'Vote For Pedro' T shirt could be seen as a political message.
You do not want to make a scene before mum goes up, but make it your mission during communion to get in the background of as many shots as you can.
15 - It's doing your paper round on foot when it's too icy to go by bike.
Being up and awake getting to make first footprints in the snow.
Texting the mates you know will check their phones before looking out the window.
It's Chris telling you that if you post a note through each door in early December
you are more likely to get a Christmas tip.
Photocopying a handwritten message and filling in the gaps for a personal touch.
To the recipients of the _____ at number ____,
Thank you for the honour of letting me deliver your papers each morning all year round.
In these cold cold winter months it is nice to have something to get out of bed for.
Lots of love, your faithful servant and daily bringer of news.
Harry

16 (FX Music The Bach Choir Royal Philharmonic Orchestra John Rutter Once in Royal David's City)
It's going to midnight mass the night before so you can have a lie-in on Christmas morning.
Checking the order of service for carols as soon as you've sat down.
Fingers crossed for O come all ye faithful, because that is an absolute belter,
And secretly hoping for anything other than Once in Royal David's City, because
1) It doesn't compliment your vocal range and
2) You and mum refuse to sing that all Christian children should be mild and obedient.
17 - It's going with mum to help pick out a Christmas tree.
Last year dad was in charge and it ended up as a pile of sticks in a pot with some baubles on top.
Remember to pack your gloves to carry it back across the common.
Pass the point where in as little as three weeks these trees will begin to be discarded.
The same point you and your mate Oisin will stop on the way home from the pub one night,
Wondering if that pile of fir is as soft as it looks? It's not.
But with trousers tucked into socks and coat zipped all the way up to the top,
Arms crossed - you leap back into it regardless.
As you lie amongst the scent of pine talking about absolutely nothing for hours,
There is a freshness to this that you will look back on for many years to come.
18 - It's finding out your uncle Steve has an old snowboard in the Garage.
If it settles we can definitely give it a go.
It is North Devon turned North Pole
It is less than 2 inches of snow.
It's after you bro!
It's broken collarbone.
It's calling his then-girlfriend-now-wife and her thinking it's a joke.
It's reheated Brussel sprouts after a trip to A&E.
Watching Joel struggle to open his presents with only one hand.
laughing in the kindest possible way, that somehow only brothers can.
It's using this as an excuse one week later to get out of a NYE gathering,
where the invitees include three other couples, you and your ex.
Saying i would love to be there if i can.
But my brother might need help, he can only open things with one hand.
Escaping awkward embraces as the clock counts down to midnight
Instead choosing board games and hootenanny with bro and then-girlfriend-now-wife.
It's not quite what I expected as a plan
It is still the best New Year's Eve that I have ever had.
19 - It is doing Christmas together for the first time as a couple.
She bought you a T-shirt with a dinosaur on it because you have a poem about dinosaurs.
You bought her a large tub of peanuts because her brother is allergic to peanuts.
She can't have them at home so when she goes out it is always a bit of a treat.
You have no idea just how well you will eventually get to know each other.
Especially given that you will break up one month later.
You will not be able to stop wearing that t shirt.
You will question whether or not the peanuts were a good idea.
20 - It's Grandma starting a competition on Mum's side of the family.
Who can make the best stocking/bauble/place mat/tree?
We gather around Grandpa's bed so he can judge.
People have spent months on this.
Mum will always knit something.
Dad will try and subvert the idea of what it is we are trying to make
Uncle Darren's will probably involve some kind of welding.
Me and Joel will have made ours in the car on the way up.
When youngest cousin Carrie wins Grandpa will be accused of favouritism,
It is hard to know who is joking and who isn't.
21 (FX Music Clare College Choir & Orchestra Cambridge - Stillnacht)
It's living in Germany and realising they do Christmas SO much better than we do.
Learning a Schokowerkzeug is literally just a spanner made of chocolate.
Learning a Marzipankartoffel is genuinely a blob of marzipan decorated like a potato.
Learning that Gluhwein really does make your insides glow
Feuerzangenbowle is the same but with extra rum and fire involved.
You will try to bring this last tradition home with you.
Misinterpreting the ratios will leave Great Auntie Pauline passed out in front of the fire.
This Christmas you will speak more words to her in German than you have in English for the last three combined. The next year her gift to you will be a suitcase for your travels that will keep going on adventures even longer than she does.
22 - It's a second chance to do Christmas together for the first time as a couple.
She bought you some chocolate-shaped dinosaurs because she knows how much it winds you up still being given themed gifts for a poem you wrote 5 years ago.
You buy her anything but peanuts.
23 - It's volunteering to cook a Vegan Christmas Dinner this year because of Mum's treatment.
You've never cooked a regular Christmas dinner before so you may as well give it a go.
It's paper hats and Christmas crackers and there is no Turkey in sight.
Celebrating on the 23rd this year - You tell yourself it is okay to break some traditions.
Last year was your first Christmas morning away from Joel
This year will be your first Christmas day away from Mum and Dad.
It's being especially grateful for family this year,
And ever thankful you have Grace to hold your hand.
24 (Chance The Rapper - Blessings 2)
It is taking the time to go back through every Christmas you've ever had.
Realising in amongst everything else changing there has been a constant throughout.
That you remember the presence of individuals more than individual presents, except for the Playstation 2 you and your brother got when you were 8 (years old)
It is one year since mum's been given the all clear.
It is a unanimous decision that this year's film will be star wars.
It is still dairy free but maybe the occasional pig in blanket
It's asking Grace if she remembers the peanuts the same way you do.
It's your niece not realising it and yet being the centre of attention.
Knowing as she turned 1 this year, she still has everything ahead of her.
Knowing as you turned 24 this year, you still have everything ahead of you
It is praying that she won't grow up to be mild and obedient.
It is promising that you will be ready to answer the call from Father Christmas,
In case he needs Uncle Harry to help out when things get really busy.
It's still keeping your fingers crossed for O Come All Ye Faithful on Christmas day
But packing your headphones in your bag for the journey home just in case.
It's being grateful for your blessings, and as Chance the Rapper said
You made it through this far, are you ready for the next?
FX Music  "I made it through, I made it through!" Chance the Rapper…