Main content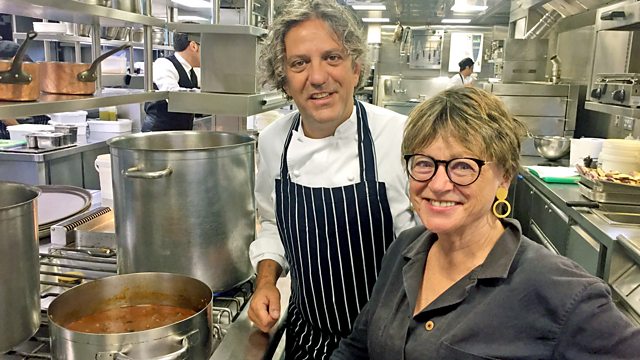 Wild Boar
For Christmas Day, Sheila celebrates the Wild Boar Feast, an ancient Viking tradition which still survives in Britain.
In this series of four programmes broadcast over Christmas, Sheila Dillon explores the link between tradition and food.
For Christmas Day, Sheila celebrates The Wild Boar Feast - an ancient Viking tradition which still lingers on in Britain (think of 'pigs in blankets') and inspires our love of the Christmas Ham. Historian Eleanor Barraclough introduces Sheila to a stuffed boar's head in the cellars of Queen's College, Oxford, and explains about how the boar was at the centre of mid-winter pagan fertility rituals. In Cumbria, Sheila meets a field of wild boar and talks to farmer Peter Gott about the fearsome intelligence of his huge beasts. Scandinavian chef Trine Hahnemann reveals the huge importance of the Christmas boar in Sweden, and how to make a meatball sandwich for Boxing Day. And chef Giorgio Locatelli explores the passion for wild boar across Italy.
With music from The Boar's Head Carol, the oldest printed carol in English, and recipes from Trine Hahnemann and Giorgio Locatelli.
Producer: Elizabeth Burke.
Giorgio Locatelli's Wild Boar alle due Maniere
Ingredients:
1 leg of wild boar, boneless (around 7kg)
2 finely chopped onions
250g butter
500g sun-dried plums
150g sultanas
150g roasted pine nuts
1 slice of candied citrus
2 tablespoons of flour
For the Marinade:
1 stalk of celery, roughly chopped
1 carrot, roughly chopped
1 sprig of thyme
5 peppercorns
1 bay leaf
2 sage leaves
1 sprig of rosemary
1 little glass of grappa
2 bottle of red wine
1 onion, chopped in half
2 cloves of garlic
bunch of parsley
white wine vinegar
First you must wash the meat with the vinegar.  In a container: mix all the ingredients for the marinade with the wine.  Add a bit of salt and pepper to the mixture.  Marinate the meat for 48 hours.
Take the meat out of the marinade and dry it with a cloth and seal it in pan with vegetable oil. Add salt and pepper.
Chop two white onions and cook it with 250g of butter until they become golden. At this point, add some onion, carrot and celery from the marinade and keep it cooking.
Pass the marinade through a fine sieve and bring it to boil in a separate pan. Pass it through a sieve again.
Add the sealed meat to the vegetables and cook it for about 10 minutes. Add the flour to the stew, stirring it. Add the bouquet garni, the sultanas, pine nuts, sun-dried plums and the boiled marinate mixture. Bring it to boil again and simmer.
When the wild boar is cooked, take it out from the sauce. Reduce the liquid and blitz it, using a mixer.
Trine Hahnemann's Wild Boar Meatballs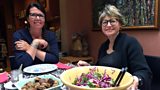 Ingredients (Serves 4):
600g minced wild boar

2 eggs

100g breadcrumbs
2 tbsp wheat flour
½ tsp nutmeg teaspoon or 10 juniper berries
1 small onion, finely chopped
1 tbsp fresh thyme, chopped
50 ml whole milk
salt and freshly ground pepper

2-3 tbsp butter or frying
Serve with:
Lingonberry compote
Make the meatballs: in a bowl, mix together the minced wild boar, eggs, breadcrumbs, flour, nutmeg, thyme and onion and then mix in the milk. Season to taste a with salt and pepper, let the mixture rest in the refrigerator for 30 minutes.
Preheat the oven to 180°C/gas mark 4. Take the chilled meat mixture out of the refrigerator and use a spoon and your free hand to shape the meat mixture into small round balls.
Fry in butter in a frying pan until they are golden brown on all sides. Place in an ovenproof dish and finish in the preheated oven for 15 minutes.
Serve the meatballs and lingonberry compote. 
Credits
| Role | Contributor |
| --- | --- |
| Presenter | Sheila Dillon |
| Interviewed Guest | Eleanor Barraclough |
| Interviewed Guest | Peter Gott |
| Interviewed Guest | Trine Hahnemann |
| Interviewed Guest | Giorgio Locatelli |
| Producer | Elizabeth Burke |