Main content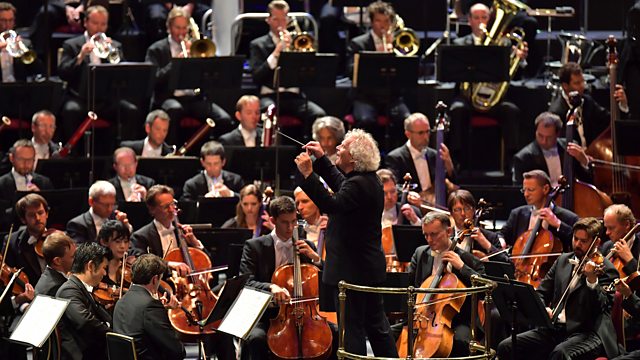 Prom 66: Berlin Philharmonic and Simon Rattle
A Prom in which Simon Rattle conducts the Berlin Philharmonic. Julian Anderson: Incantesimi. Dvorak: Slavonic Dances, Op 46. Brahms: Symphony No 2.
The Berlin Philharmonic and Simon Rattle perform Anderson, Dvorak and Brahms at the BBC Proms.
Presented by Martin Handley from the Royal Albert Hall, London, on 3rd September 2016.
Julian Anderson: Incantesimi (UK premiere)
Dvorák: Slavonic Dances, Op. 46
Brahms: Symphony No. 2 in D major
Berlin Philharmonic
Sir Simon Rattle conductor
Overlooking a lake in the Austrian resort of Pörtschach, Johannes Brahms created a symphony that captured all he saw: the beauty of the sunset; the stillness of the night; the peaceful awakening to a new day. And yet its musicians were to play, said Brahms, as if 'with a mourning ribbon around their arm'.
Brahms's meeting of glowing melancholy and piercing brightness is the culmination of the Berlin Philharmonic's second Prom under Sir Simon Rattle, following Dvorák's colourful Slavonic Dances and a new work from Julian Anderson.