Main content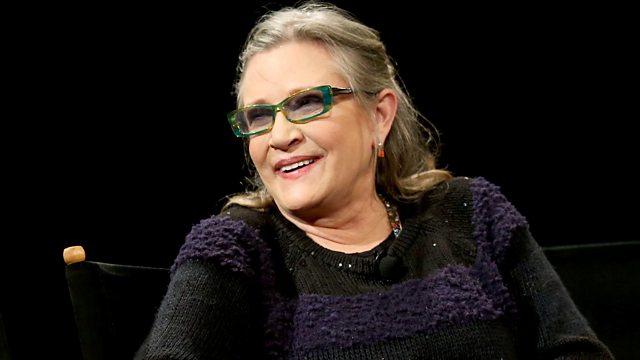 Carrie Fisher: mental health advocate
Looking at the mental health advocacy of Carrie Fisher, Jo Cox's Commission on Loneliness, unlikely pen pals, artist Zarah Hussain, and 19th-century women and childcare.
Carrie Fisher's legacy goes beyond her film and writing career. She spoke and wrote about her experience of mental illness with a new openness. We discuss what was so distinct about the way she spoke out, and we ask how much difference it makes when women with her profile are open about their mental health problems. Emily Reynolds, a journalist for whom she changed what it means to be a woman with bipolar, and Jo Loughran, the interim director of Time to Change discuss.
When Jo Cox decided that tackling the problem of loneliness would be a key priority in her role as an MP. She reached out across party lines to the Conservative MP Seema Kennedy. Together they devised a plan to launch a commission into loneliness, which would not just lead to politicians sitting around and talking about the issue, but instead represent a call to action. Seema Kennedy discusses carrying on the campaign after Jo's murder and her hopes to launch the commission in January with Cox's friend and Labour MP, Rachel Reeves.
Georgina Binnie, a student at Leeds University, has set up a project called 'Writing Back' which links older people in Yorkshire with students to become penpals.
Artist, Zarah Hussain, creates mathematically precise geometric patterns. Fascinated by pictures of mosques as a child, she spent years perfecting the techniques of Islamic Art. Now integrating technology into her practice, it all starts with a circle, a pair of compasses, paper, a pencil and a ruler.
Melanie Reynolds is the author of a new book which explores the false assumptions made about working class mothers in the late 19th century. Her research looks at the high infant mortality rate in northern industrial communities and aims to challenge the stereotypical ideas of ignorant, careless mothering and reveal new a picture of innovative child care practices.
Presented by: Jenni Murray
Produced by: Kirsty Starkey.
Chapters
Carrie Fisher: Mental health advocate

Journalist Emily Reynolds and Jo Loughran of Time to Change on the impact Carrie made

Duration: 08:49

A commission into loneliness

Conservative MP Seema Kennedy and Labour MP, Rachel Reeves on Jo Cox's legacy project

Duration: 09:29

Writing back

Caz Graham visits a project called writing back where students and OAPs become pen pals

Duration: 08:24

Islamic art

Zarah Hussain creates mathematically precise geometric art inspired by mosques as a child

Duration: 07:04

Working class mothers in the late 19th century

Author Melanie Reynolds explores stereotypes around working mothers in the 19th century

Duration: 08:07

Credits

| Role | Contributor |
| --- | --- |
| Presenter | Jenni Murray |
| Producer | Kirsty Starkey |
| Interviewed Guest | Emily Reynolds |
| Interviewed Guest | Jo Loughran |
| Interviewed Guest | Rachel Reeves |
| Interviewed Guest | Seema Kennedy |
| Interviewed Guest | Zarah Hussain |
| Interviewed Guest | Melanie Reynolds |