Main content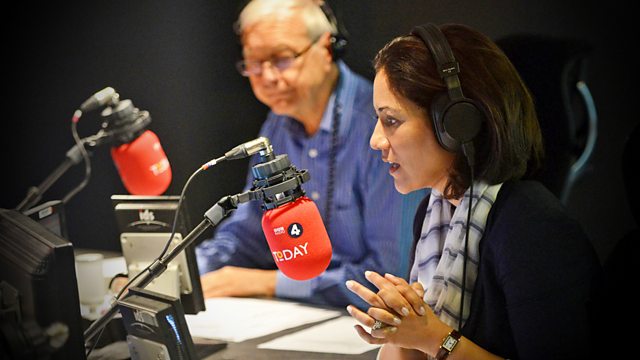 24/12/2016
Morning news and current affairs. Including Sports Desk, Weather and Thought for the Day.
Today's running order
0710
The United States has allowed the UN Security Council to adopt a resolution demanding an end to Israeli settlements. Yolande Knell is our Jerusalem Correspondent.
0715
Germany's Chancellor Angela Merkel has been talking about security in the wake of Berlin market attack and the killing of the Tunisian man Anis Amri. Bethany Bell is our reporter in Berlin.
0720
Rail passengers will face serious disruption over Christmas as two hundred separate engineering works get under way across Britain from tonight. Jane-Frances Kelly reports from Ealing Broadway Station.
0725
With the whole of Aleppo now under Syrian government control, what is next for the people who fled the city? Mike Thompson reports on what happens now to those who left their homes behind.
0730
Divisions within Labour over prisons policy have surfaced after shadow cabinet minister Baroness Chakrabarti said the party was no longer in the "arms race" for who could appear toughest on crime. Lord Falconer is a former Shadow Justice Secretary and Lord Chancellor.
0740
In this week's Meet the Author, Jim Naughtie talks to Petina Gappah about hardship, humour and the politics of her native Zimbabwe.
0750
Network Rail has two hundred separate engineering works planned for this Christmas, but don't they have to do the work at some time? Simon Bradley is the author of "The Railways: Nation, Network and People" and Tony Miles is from Modern Railways Magazine.
0810
The United States has allowed the UN Security Council to adopt a resolution demanding an end to Israeli settlements, breaking with long standing American practice and withholding its veto, in an apparent rebuke of Israeli policy. P.J. Crowley is the former United States Assistant Secretary of State for Public Affairs.  
0820
The Children's classic We're Going on a Bear Hunt was written 27 years ago and has proved a staple for many little people's libraries. Helen Oxenbury is the book's illustrator and Michael Rosen is the author.
0830
With the whole of Aleppo now firmly under Syria government control, where will the war move now? Dr David Nott is a British surgeon who has been working in Syria and Alistair Burt is the former Minister for the Middle East.
0840 
Our Ireland Correspondent Chris Page investigates the difficulties and opportunities that Brexit may have on Ireland. 
0845
Storm Barbara, Storm Conor and the warmest Christmas Day ever. What's going on with our weather? Professor Liz Bentley is Chief Executive of the Royal Meteorological Society and Dr Friederike Otto is a senior researcher at the University of Oxford.
0855 
The Prime Minister has called for the country to 'come together' in her Christmas message. Rachel Johnson is a journalist and Jacob Rees-Mogg is a Conservative MP.
All subject to change.