Main content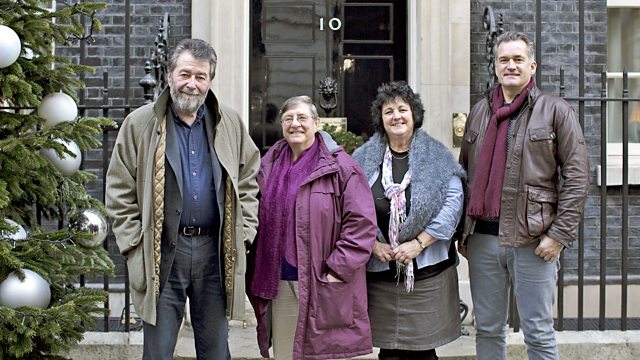 Number 10 Downing Street
Eric Robson chairs a special, festive edition recorded inside Number 10 Downing Street, including an exclusive interview with head gardener Paul Schooling.
Eric Robson chairs a special, festive edition recorded in The State Dining Room of the Prime Minister's House, Number 10 Downing Street. The programme includes an exclusive interview with Head Gardener Paul Schooling - who's gardened at Number 10 for more than a quarter of a century.
GQT chairman Eric Robson says, "As GQT enters its 70th anniversary year, it's a delight to be taking our audience for a unique trip through that famous black door to explore the lesser-known garden beyond it."
Regular panellists Christine Walkden, Matthew Wilson and Pippa Greenwood take questions from an audience of Radio 4 listeners who are also inside Number 10.
Produced by Darby Dorras
Assistant Producer: Hannah Newton
A Somethin' Else production for BBC Radio 4.
Fact Sheet
Q – Advice on growing cauliflowers please.
Pippa – I have no problem with other brassicas – 'Romanesco' or 'Calabrese' – but cauliflowers I struggle with.  Cauliflowers love a bit of lime in the soil and for the soil to be firm
Christine – I was taught to use a sledgehammer to firm the soil up!
Q – I'd like to plant a holly bush that will give red berries at this time of year.  Please can you recommend a variety? And do I need a male and a female?
Christine – Ilex 'JC van Toll'.  Self-fertile and reliable.  Don't let it dry out. 
Pippa – Watch out with the misleading names – 'Milkmaid' is a male, and 'Golden King' is female.
Matthew – Ilex crenata is a great alternative to Box.  Blue Hollies (Celastrina argiolus) are my favourite
Q – Is it good or bad to mulch trees with grass clippings?
Pippa – I wouldn't mulch with pure grass clippings.  I would mix with something drier to keep it aerated.  Never go right up to the trunk of a tree or shrub.
Matthew – Compost the grass clippings first
Q – My spring bulbs have already started coming up.  What should I do to protect them over winter?
Matthew – Nothing!  The ones that are poking out now will check their growth and continue when it gets warmer
Pippa – Protect against people stomping on them
Christine – They can be prone to slug damage so bear them in mind too
Q – What's wrong with the roses growing in our garden?
Christine – They're in the wrong spot – roses need sunshine, space and good light
Matthew – This is the ideal time to replace them.  Make a new bed, feed it well with lots of organic matter, with lots of sun and good air circulation.  Then plant in good new rose stock. 
Pippa – Putting onions/chives will not stop your roses getting black spot
Q – Which Dogwoods are the panel's favourite?
Matthew – I like flowering Dogwoods.  Flowering Dogwoods (Cornus kousa) like woodland conditions.  Stem-coloured Dogwoods would be a bit easier for you, from the lime green 'Flaviramea' through to the purple Cornus kesselringii.  The key is to be very generous with numbers.  The classic red Cornus alba 'Sibirica' with the 'Flaviramea' behind it, in big numbers looks great. 
Q – I'm looking for perennial plants for our rowing club grounds that will flower together in early June in our club colours of red, light blue and dark blue.
Matthew – Red: Geum 'Mrs Bradshaw'.  Light blue: Salvia 'Blauhugel'.  Dark blue: Iris 'Mer du Sud'
Pippa – Cornflowers
Christine – Light blue: an Alpine called Anchusa cespitosa. Red: Begonia semperflorens. Dark blue: Echium plantagineum range
Q – I need to change the plants in my strawberry bed? What variety would be best for large, flavoursome fruits?
Christine – 'Christine' is the best variety – plump, juicy, and very tasty!  Ideally don't plant strawberries back into the same bed.
Pippa – Get a wide range of varieties – there's a big fruiting one called 'Marshmello' and the classic 'Cambridge Favourite' has great flavour.
Q – Can you recommend therapeutic plants for the garden of a busy politician?
Christine – Mint for a nice cup of mint tea.  Camomile and sage too.
Matthew – Aspidistra.  Agave americana.